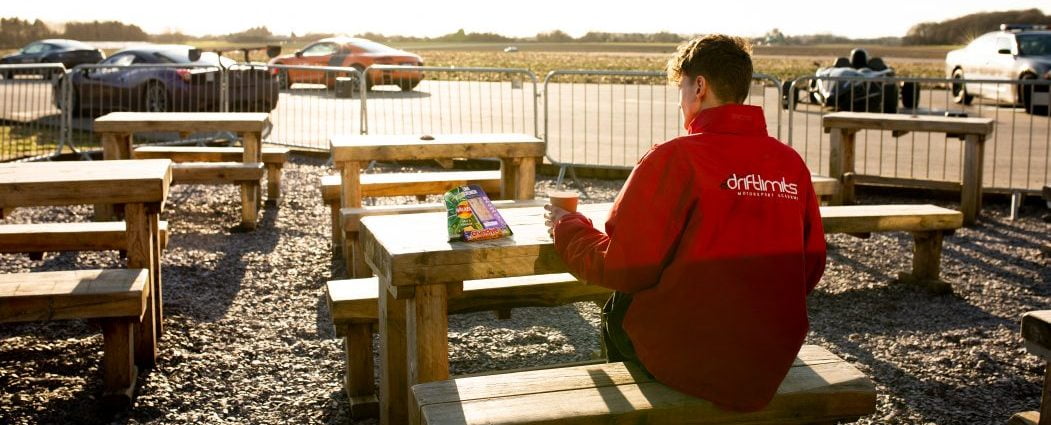 The Pit & Paddock at Drift Limits
Time for a Pit Stop
Driftlimits is a one stop shop for everyone obsessed with incredible cars and machinery.
Even with a 'supercharged' atmosphere, there's space to relax and unwind as much as there is to enjoy shining paintwork and roaring engines.
Our 'Pit & Paddock' hospitality suite and parking area includes a coffee house, meeting place and general hangout spot for spectators and guests.
Everyone is welcome, even for those that are simply passing by and fancy a quick pit stop, meet & greet and to soak up the sound of V8s and V10s.
We have a wide range of refreshments on site including Tea & Coffee, Soft Drinks & Water, Chocolates & Crisps and even Gourmet Sandwiches & Wraps!



Show & Shine Events
On the second Sunday of every month, the Pit & Paddock hosts a Show & Shine event.
We invite car clubs and car owners, bike clubs and bike owners, truck clubs and truck owners, petrol heads and electric heads all over the country to show off their pride and joys on our circuits. No matter the vehicle, no matter the age, no matter the style.
The perfect opportunity for photoshoots and meeting like-minded people.
Bring your pride and joy to somewhere that truly respects it, to the home of the greatest driving experiences the UK has to offer.
Introducing meets with a difference.
– No 'marque only' days –
– No 'club only' days –
– No 'this type of car only' days –
– No brand-hating toxicity –
– No stress –
– All vehicles –
– All friendly and fun –
Best of all, all profits from tickets go to a local charity.
Drift Limits will have a selection of their cars in the pit lane, get up close and personal with some of the most incredible cars that you won't see anywhere else!
If you run a car club and want to 'sponsor' a Pit & Paddock event date, book a club only slot or announce your attendance, get in touch with us and we'll publish your details here.
We have three dedicated club areas for cars, available to book each month for only £10 each.
Exhibitor vehicles are £1 to attend.
All other vehicles £3 to enter.
All profits from entry fees will be donated to charity!
Each month we'll have an autojumble, and local businesses and motoring related brands on site to show you what they have on offer.
Hire an Autojumble pitch for the day for only £5.
For a business pitch, contact us to find out more.
Drift Limits' Pit & Paddock
Show & Shine Events Calendar
2020
October 11th
Supporting Charity TBC
Clubs in attendance TBC
November 8th
Supporting Charity TBC
Clubs in attendance TBC
December 13th 
Supporting CAD, Willow Foundation & the NHS
Clubs in attendance TBC
2021
January 10th
February 14th
March 14th
April 11th
May 9th



Show & Shine Details
WHEN?
Each show and shine event will start at 10am and end at 4pm.
WHERE?
At Drift Limits! On our Circuits!
Yes, that's right. You can park your car up on Circuit 112, our supercar and flagship circuit or on the B17 Bomber circuit.
The circuit you park on will be dependent on capacity and cannot be chosen.
HOW?
To get involved, just come along. It's that easy. Turn up no earlier than 10am and leave before 4pm.
If your vehicle qualifies for a position on our circuit, we'll flag you through and our marshals will get you positioned on circuit. Each car will have adequate spacing in-between for each to open their doors.
We're of course asking people to respect social distancing at this time, with our wide open venue it makes it very easy to walk through and check out cars, talk from a distance to the owners and converse about cars.
We highly recommend that everyone wear face masks and keep 'face-to-face' at a minimum, instead conversing at an angle where possible.
Anyone showing signs of coronavirus should NOT attend these events.
Our staff will be keeping watch through the day and anyone seen to shown signs will be asked to leave immediately.
COST?
To exhibit your car is absolutely free.
To attend and view is £3 per car. All profits raised will be donated to a local charity supporting that date.
Autosolo pitches are £5 per 5m x 10m pitch.
Trade pitches please contact us to discuss, selecting 'Business Enquiries' from the drop down menu.
RULES?
Yes, we have some.
Anyone breaking these rules will be instantly required to leave and/or banned.
No second chances. No bribes. No take-backs.
1. Be polite and courteous to all in attendance. Anti-social behaviour will not be tolerated.
2. No excessive and unnecessary revving of engines.
3. No 'limiter bashing' under any circumstances.
4. Immediately comply with any polite instructions and requests from marshals, Drift Limits staff and/or Management. There will be no second requests.
5. Keep your speed low. This is a show and shine. Not a track day.
6. Respect our Neighbours when entering and exiting our site.
7. Racing on the A41 is illegal, irresponsible and will result in you being banned.
8. The police will be aware of and may attend our events. You will get caught/reported if you misbehave.
9. No Drugs. They're still illegal, this is still the UK.
10. No Alcohol. We do not have a licence. Plus, Drink Driving is illegal and irresponsible.
11. SPL competitions, subwoofer standoffs and continued loud playing of music are not allowed.
12. Track & Trace. Use our easy QR Code or visit the web address on signs to comply with NHS Track and Trace.