Motorsport Driver Club Assessment
Motorsport Driver Club Asessment
30 Minute Introductory Briefing: Covering racing lines, throttle/braking technique and track day safety etiquette.
1 hour session in our track prepared Mazda MX-5 with 1:1 training focusing on track layouts and driving etiquette across two motorsport disciplines, track driving and drifting.
Assessment where you will perform a number of laps demonstrating safety and skill to a proficient level under pressure.
Once completed
The successful candidate is invited to join our Drift Limits Motorsport Academy monthly subscription.
Track Prepared MX5 / Fuel / Tyres / Maintenance / Storage from £29 per month.
The easiest and cheapest way to start taking part in track days, we take away all of the stress and let you enjoy the day without having to worry about logistics.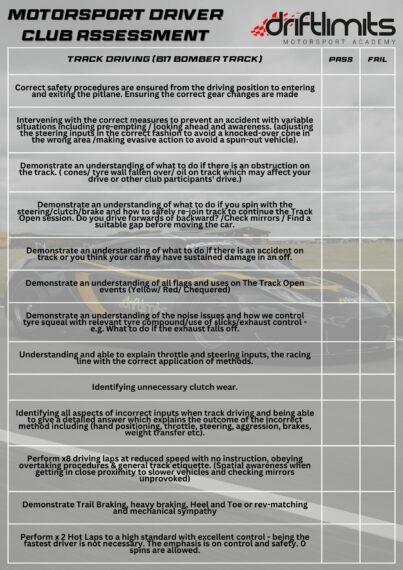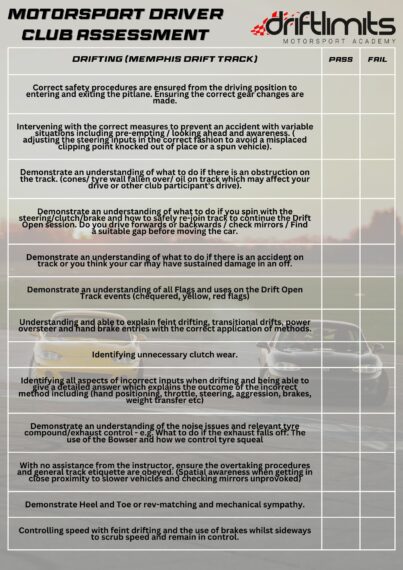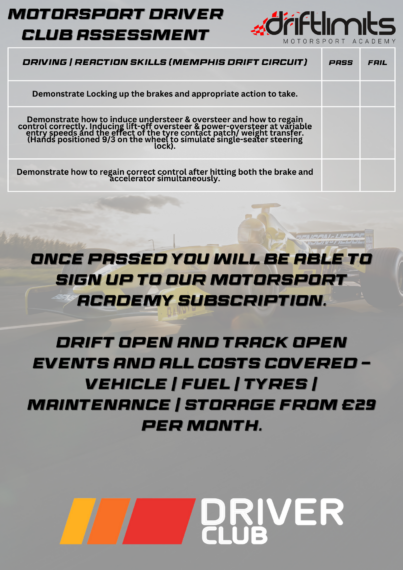 So What Is The Motorsport Driver Club Assessment?
Do you have what it takes to join our Motorsport Driver's Club?
To sign up to our subscription based driver's club you'll need to successfully complete our 'Motorsport Driver Club Assessment'. This a relatively straight forward test geared up to ensuring all of our Club Members understand the dangers involved when participating in our Track & Drift Open events and can demonstrate an understanding of our track etiquette – qualifying you to be trusted to drive in a respectful manner in our cars, completely on your own.
Through this Motorsport Assessment, we will be able to ensure all drivers are endowed with a proficient driving ability which maintains safety and enjoyment for all club members driving togther!
Upon completion you'll receive an official Drift Limits 'Grade E Motorsport Driver Club Certification.'
If you have already completed stages 1-2 of our 'Driver Club – Motorsport Development Card' or you have significant track or racing experience then you are in a stronger position to take the 'Motorsport Driver Club Assessment.' There is no guarantee all drivers will pass.
There will be 1 hr session where you will be learning and driving a track prepared Mazda Mx-5 with 1:1 training in order to build a understanding of our track layouts and driving etiquette across two motorsport disciplines: Track driving and Drifting. After this familiarisation session – one of our instructors will put you to the test where you will perform hot laps under pressure. You will be graded on driver consistency, consideration to other track drivers, understanding safety procedures, driver response by reacting in the correct manner with variable and unpredictable situations in order to save the vehicle from a potential incident. This is the ultimate test of reaction speed, vehicle dynamics, knowledge and communication skills.