Experience Photography and On-Board Video
We offer the highest standard of on and off track photography and video for our academy participants to capture the exciting reality of motorsport.
Our photographers elevate memories to art, with images worthy of the best coffee table books.
We have four very simple professional options to choose from and all the flexibility, dynamism and style you could ever expect.
We offer individual photos, an action photo package, an in-car video package and the Media pack which combines absolutely everything into one practical and great value bundle.
Personal photography is welcome from the waiting areas which give a good vantage into the pit-lane and beyond, but no admittance to trackside areas for photographers is permitted to ensure everyone's safety.
Shown below are examples of customers' recent photos spanning across our range of experiences.
Purchasing Options
Portrait Photography
Our pit lane portraiture is one of the best ways to show off the cars that you experienced on your day, whether you drove them, had passenger laps, or simply sat in them for a look inside.
You are able to choose a portrait photo in any car that is available on the day and you have control over whether you'd like to stand next to the car, sit in the car or do something a bit different and out of the ordinary by striking a killer pose!
Portrait photos can be taken of whoever you would like, friends, family, children and parents.
If you have purchased a portrait photograph, one of our professional photographers will come and have a chat on the day and find out exactly what you would like.
Please take a look below at some of our favourites!
Action Photography
If you would like to capture the speed and thrill of your experience then the action photographs will be the perfect addition to your day.
Our In-House photographers will be ready and waiting for you to head out on track and will position themselves in different areas so that each photograph is different and tailored to you.
Within the action photographs, you can expect to receive images that show the car in full, on track and show you as the driver as clearly as possible.
Below are some examples of actual experience photographs captured by our photographers recently for our range of experiences.
On-Board HD Video
We use the latest GoPro Hero 7 cameras recording in Full HD with HyperSmooth Stabilisation mounted to your helmet* to catch all of the action inside and in front of the car. This way, you'll not only be able to watch back your video and show off your laps but analyse your driving technique in great detail.
Before you go out on your drive, you'll be given a red Drift Limits lanyard with a Micro SD card attached. Please make sure this lanyard is visible to your instructor(s) so that they are aware you have booked a video package and can set up the GoPro accordingly once you are ready to drive.
Feel free to use your SD Card as much as you can on the day! Each card will hold approximately an hour of footage so there will be plenty of room for your experience and any extras you choose to do.
*Helmet mounts will be used where possible but if seen to be an interference or you have your own helmet without a mount, we will use an in car mount as an alternative.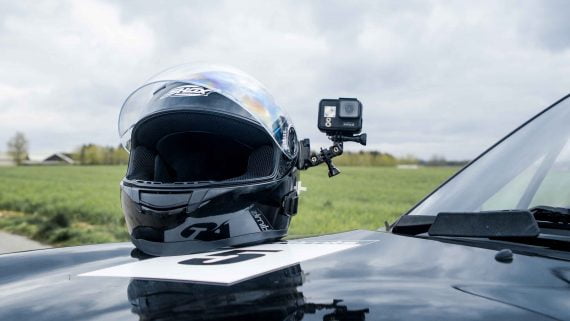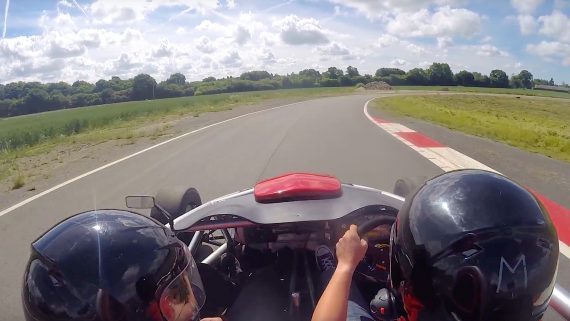 Receiving Your Media
Video – 
Once you have completed your experience, please hand your lanyard and SD card back into reception where one of our media specialists will be able to offer you two options. You can have your video transferred to a mobile device that you have with you on the day so that you can enjoy your video straight away. Alternatively, you can opt to purchase the SD Card and USB reader for a fee of £6.50.
**Please note that it is important to copy your video to another device to be sure that it cannot get lost or damaged over time.**
Photographs – 
All of your photographs will be edited beforehand by our in-house photographers. We colour correct, adjust exposure/contrast, straighten and clone stamp out any unwanted artifacts to ensure they look their absolute best before they arrive in your inbox. We pride ourselves on delivering the best possible media so that you are left with an accurate representation and memories you want to look back on.
We ask that you allow up to 3-5 days to receive them, however they may be with you sooner. Our photographs are supplied via WeTransfer as well so keep an eye on your inbox and spam folder.
All your media will be sent to the email address that your experience was booked with but you are welcome to change the address, just let us know.
**Please note that the download link to your photographs and videos will expire after 4 weeks of the send date. We are usually able to re-supply the these if needed, but this is not guaranteed**
Professional Photo Printing
What better way to remember your experience than to hang a professional print in your home or office that you can be proud to show your friends and family.
We use the latest Canon Photo printer with Chroma+ inks to ensure they last for many years without fade. Your print will be finished with a beautiful glossy finish ensuring a lab-quality product.
We offer a variety of sizes and your print will include a sleek black frame ready for you to display right away.
Experience photography must be purchased on the day prior to ordering a framed print. If you would like a print of our other Drift Limits artwork then please speak to a member of our Media team on the day of your experience.
All Prints will come with a black frame included.
6×4 Framed Print £8   A4 Framed Print £15   A3 Framed Print £25
Social Media
Social media is massively important to us.
We love seeing how you enjoyed your day from your own, unique perspective, so don't forget to tag us and use #driftlimits to let us see how you got on. Don't be shy, get involved! If we like it, we will let you know, share it and you might even win something from it if your post is above and beyond cool!
You can find us on Facebook, Instagram and Twitter.
#DLPHOTOCLUB
We really want to see you having a great time here at Drift Limits so we would like to invite you to join our Photo Club!
All you need to do to take part is upload a photo of yourself, friends or family having a great time and post it to your Instagram using #DLPHOTOCLUB to be in with a chance of winning a Secret Super Car experience and an item of Drift Limits merchandise!
Winners will be announced on the first Tuesday of every month so please get your entries in before then!
Please check our Instagram stories page @Drift_limits for full Terms & Conditions