Driver vs Influencer Showdown - 4th August 2020
So, you think you can drive?
PROVE IT
Welcome to Drift Limits
Event Trailer
Drift Limits are dedicating an entire day to celebrities, professional drivers and influencers.
create content
interact
collaborate
get competitive – prove your skills against our in-house instructors
get very competitive – prove your skills against our sponsored drivers
get insanely competitive – prove your skills against other influencers and professional drivers
just have a great time driving a fleet of supercars and going insane in drift cars
We're offering every professional driver, influencer, social media celebrity, esports champion, professional sim racer and motorsport legend
the opportunity to take part – for free – in our Racing Line and Drift Trophy Challenges, show the world what they've got and vlog/blog/instagram/tiktok
to your heart's content while socialising with each other and enjoying our facilities here in our unique setting.
Ditch your daily driver, hang up your headsets, put away your pedals and get here.
Wednesday 4th August 2021
9am – 6pm
First cars on track at 10am. Last cars on track at 5:30. Event ends at 6pm
Early bird gets more time on track.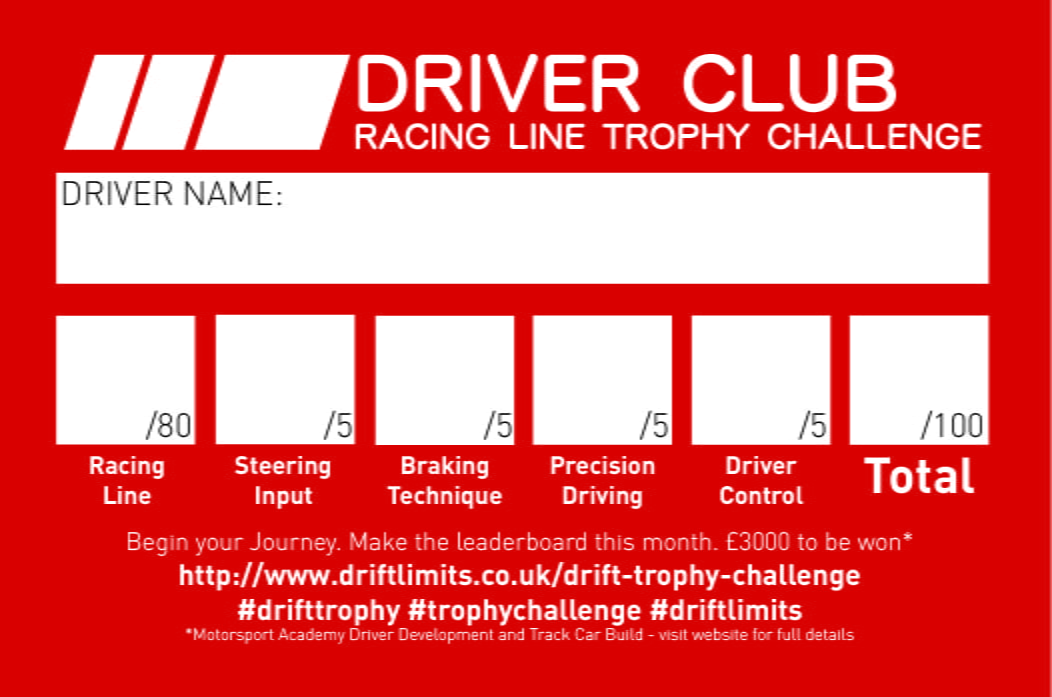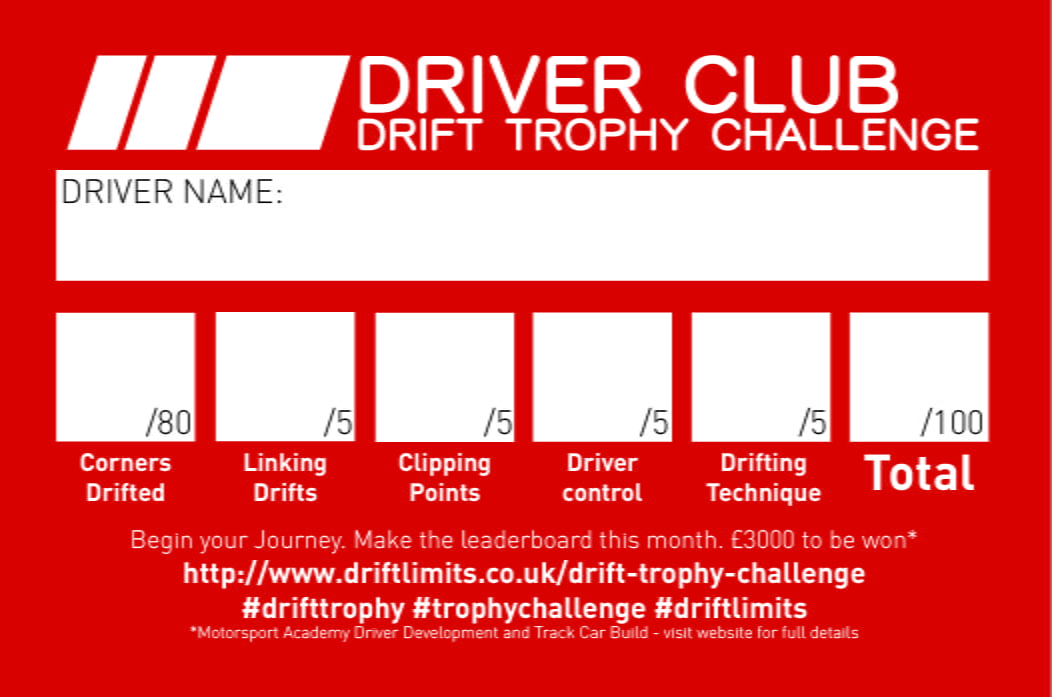 4 laps free in a car of your choice from our available fleet
First 2 laps – learn circuit and car
Last 2 laps – Graded on skill as per Racing Line Trophy Challenge
4 more laps for £25 if you want to improve your score
6 laps free in a Mazda MX5 or Nissan 350Z Drift Car
First 4 laps – learn drifting technique
Last 2 laps – Graded on skill as per Drift Trophy Challenge
5 more MX5 laps for £22.50 or 5 more 350Z laps for £32.50
How does the Racing Line Trophy Challenge Work? What is it?
Racing Line
On Circuit 112, the racing line changes depending on the car you choose. Some corners you hit a different apex than others and lines can change. We know all of these for each of our cars and of course will show you the best to take.
Starting with a score of 80 (maximum achievable) we will deduct 10 points for each deviation.
Steering
Proper track technique is tested here, are you shuffling your hands and the wheel or holding a solid grip with spaced hands?
Great steering can gain you up to 5 points towards your final score.
Braking
Controlling your speed through braking is a huge part of track driving. Reaching threshold, trailbraking, locking up, feathering or being jerky can all affect your score here.
Optimum braking can gain you up to 5 points towards your final score.
Throttle
A heavy right foot won't earn you any favours here. The correct input, neatly at the right times providing great acceleration and control where necessary wins the day. Upset the weight transfer, loss of grip and under/oversteer affects your score.
Top Throttle control can earn you up to 5 points towards your final score.
Technique
 Not an overall reflective score, but a measure of how you collaboratively utilised all your skills on circuit will earn you the best score in Technique. Precision, distance from apexes, hitting cones, fluid weight transition for optimum grip…
Your Technique can earn you up to 5 points towards your final score.
How does the Drift Trophy Challenge Work? What is it?
Corners Drifted

The Memphis Circuit (our drift track) allows for 4 graded corners per lap.
You will be drifting a total of 8 corners.
A corner will be logged as a success if over 70% of that corner was drifted.
You start at 80 points (maximum achievable) and we take off 5 points for each corner that wasn't over 70% drifted.
Linking Drifts
Smoothly linking drifts throughout your 2 laps can earn you up to 5 points towards your final score.
Clipping Points
A good line, touching apexes our outside clipping points on the track can earn you up to 5 points towards your final score.
Driver Control
Good throttle control, not locking brakes up, steering inputs, hand positioning and smooth movements can earn you up to 5 points towards your final score.
Drifting Technique
Reacting with required inputs (eg: extending drifts by use of handbrake or feint) or performing a perfectly executed drift without reaction required, entering drifts at the correct speed and with great execution can earn you up to 5 points towards your final score.
Total Score
The total score will be given to you out of 100 by your instructor, on a card, at the end of your experience.
This score is not negotiable.
So what happens when I've done the Trophy Challenge and got my score?
1. Show off what you've got.
2. Prove how good you are by comparing your score against not only your peers,
but our instructors and our resident karting champion
3. Get in next to your instructor, score them!
Engage in fun rivalry and collab with other influencers
to see who can earn the best score.
Create a huge amount of unique content on site, meeting other people, checking out cars and having a great social time in a unique setting.

Drift Limits sponsors an 11 year old boy, starting his journey in go karting.
Gotta be easy to beat his score, right? Let the battle commence against this fearless and ferocious personality who has a hilarious attitude and won't back down when faced with any challenger.
Discuss filming opportunities, collab possibilities, access to Driver Club perks, discounts for your fans, content production and more with the DL Team.
Confirmed Attendees
Mat Armstrong
(Racing Driver)
Min Supra
(MPire)
Charlotte York
(Miss_CPY)
Jess Hawkins
(Pro Drifter)
James Kenyon
(Riviera Circle)
Tim Joslyn
(Racing Driver)
Beth Halsey
(White Tiger Label)
Nico Ferrari
(Warner Bros Exec)
Alex Alexandrou
(YouTube)
Driver61
(YouTube)
Hugo Healy
(FPV Drone Photography/Videography)
Roosh
(Car_Guys_Official)
Stefan Stewart
(YouTube)
Adam C
(AdamC3046)
Michael Terry
(The Other Stuff)
Noah Wolfe
(Go Karting Legend)
Anthony Jordan
(Racing Driver)
Matt Blyth
(Racing Driver)
Jordan
(Slammed/ Gravity)
Jack Jagodka
(Hollywood Stunt Man)
Nick Ferrari
(LBC Radio)
Tom Churchouse
(Sim Racer / Driver)
MasonMedia
(Videography)
Jade Maria
(Instagrammer)
Jonathan Warburton
(Dr1vr)
Scott Webb
(Car Collective)
Just click the button already.
The Day's Rules
This is a VIP only event. If you do not have an invite and are 'ON THE LIST' you will have to prove yourself to be an influencer of sufficient merit and with sufficient following and interaction to be able to permit, or that you are a professional motorsport driver, professional sim racer, celebrity or public figure. Each participant not on the list will be vetted to be allowed entry and participation. You are welcome to bring an entourage with you including a media team and friends/family for support, however their participation will not be guaranteed.
By attending, you agree to the following, simple and friendly provisos:
Drift Limits will give you 4 free driving laps in our supercars and 6 free on our drift circuit, to participate in the Trophy Challenges as listed on this page.
You choose which car out of the fleet you think you'll get the best score. There will be may cars to choose from, it's up to you to work out which you want to drive – or try them all and see how it goes.
No special treatment will be given to you, other than the laps given for free.
Please be courteous to all other attendees, keep rivalry as a fun element. Any escalation will result in your expulsion.
Should you wish to better the score you have, simply arrange with us to take out more laps on the day and try again.
Drift Limits will photograph your score card to compare against others and map progression. You keep all cards.
You agree to be recorded and photographed by Drift Limits at any and all times while on site with us.
Drift Limits retain the rights to utilise any media produced for marketing purposes.
Please ensure that any other party you involve in your content has given full consent.
A disclaimer must be signed before driving in our vehicles. This can be viewed here.
This is not a racing event, it is a test of skill. Going faster will not get you any extra points!