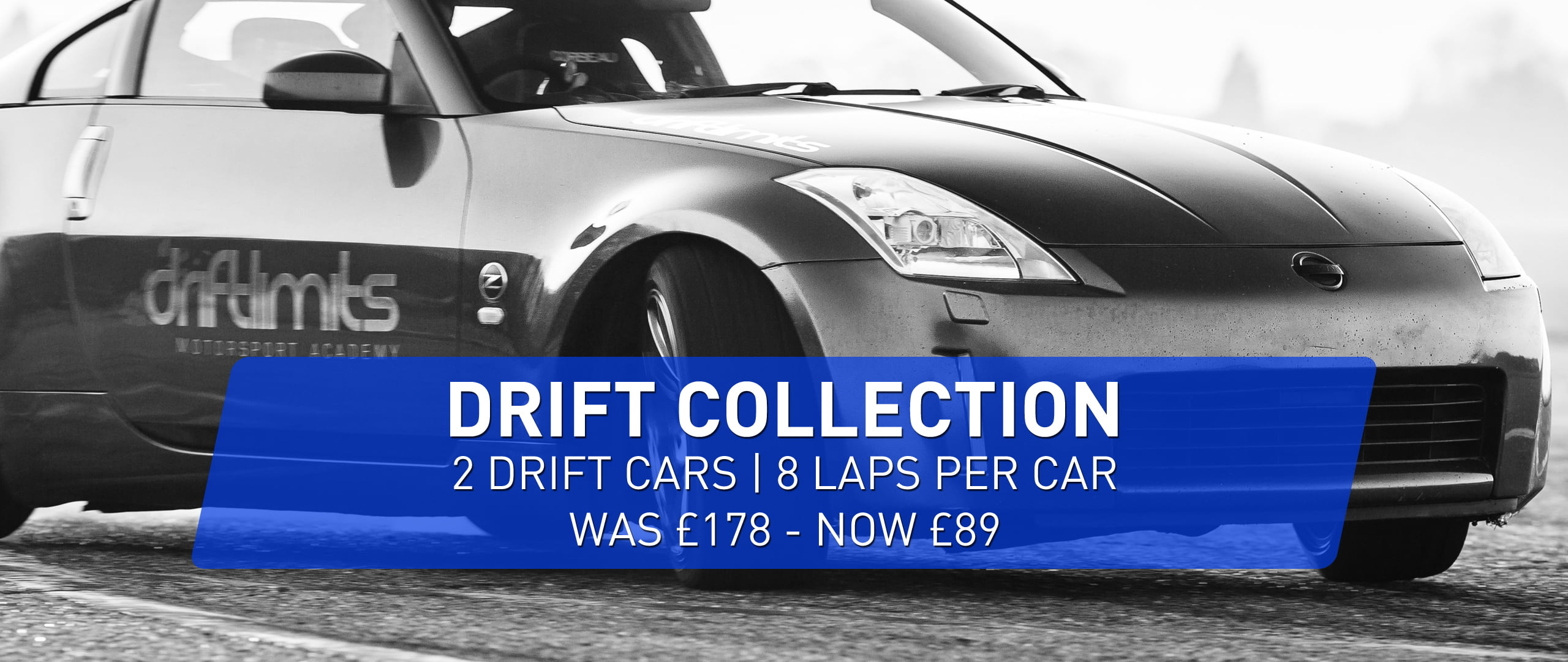 DRIVER CLUB – Drift Collection
Join the smoker's club – create huge trails of smoke and thick black lines of burnt rubber in your tracks! There's a certain characteristic common among the members, an underlying tendency towards out-and-out lunacy and our specialist instructors (completely unhinged) will encourage you to explore this dark art of motorsport.
The two different cars you will be driving have proven drift ability, becoming vehicles of choice for many drifters (our own staff included!). The entry level MX5's are lightweight, nimble and precise – their short wheelbase gives them the snappy characteristics of the fabled Toyota AE86, their revy low powered engines seem to long for red line abuse. They are the ideal start, basic modifications ensure good technique and rapid reactions are developed swiftly. Your first 8 laps will be dedicated to getting the car balanced in a drift – then keeping your foot matted.
Step up to stage 2 for 8 laps in the more powerful, more aggressive Nissan 350z. A 3.5 litre V6 has made this the weapon of choice in drifting, having been used competitively across the globe with a massive catalogue of bolt on modifications and upgrades. The additional grip and power will see your drifting develop huge power slides and linking transitions. The back-to-back driving progression from Mazda to Nissan should cement your skills and complete your transformation from drift wannabe to drifter and help build an understanding of two very different handling cars.
This experience is offered at 50% of it's true value, as a Direct Book Only Exclusive, thanks to Driver Club
Get access to 50% off this and a huge range of experiences for free, just by signing up.
30 Minute Introductory Briefing: Covering drift lines, throttle / braking technique and track day safety etiquette.
4 x Sighting Laps including 1 drift hot lap in our drift prepared mx5
A total of 16 laps combined in the Mazda MX-5 and Nissan 350z with 1:1 tuition from our motorsport instruction team

Take part in the optional

'Drift Trophy Challenge

' on the last 2 laps where you will be assessed on consistency, driver control and clipping points to demonstrate the perfect drift lap

Approximate Experience duration: 90mins
Use the arrow on the top right of the calendar to navigate forward in time and choose your booking date. Please ensure you read our Terms and Conditions which are accepted when placing your booking order.
Session Information
Height and weight restrictions can be found here
Physically fit with no serious health conditions
Glasses must be worn if needed
Full manual driving licence
Flat-soled shoes must be worn
Calendar Key:
Red: Fully booked
Green: Spaces available
Green with brown corner: Limited spaces available
Date not highlighted: Not available
'No Blocks' message: No space available