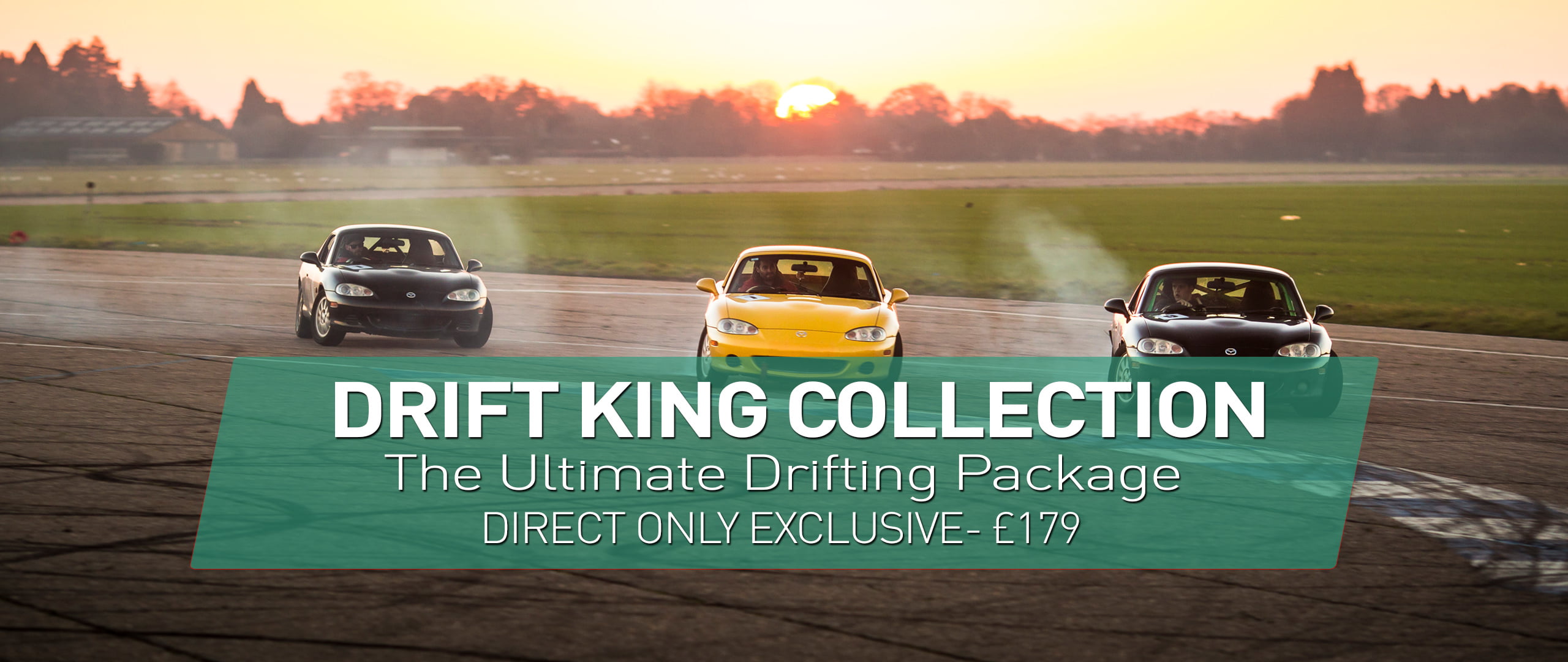 Driver Club – Drift King Collection
Drifting has been on the periphery of mainstream Motorsport for the last ten years, popularised initially through internet videos of the skilful art which originated in Japan, eventually exploding into pop culture with the likes of the underground legend known as the 'Drift King' Keiichi Tsuchiya and his notorious Toyota AE86 Trueno as in the anime series 'Initial D'.
The big secret is, it looks far more difficult than it actually is! Whilst the learning curve is steep, our venue with a dedicated drift track and specialist (completely unhinged) instructors is the perfect place to take your car control to the next level. We have proven time and time again that drifting experiences are our greatest asset, simply put, nobody else does it as well as we do.
The two different cars you will be driving have proven drift ability: The entry level MX5 is lightweight, nimble and precise – the short wheelbase gives the snappy characteristics of the fabled Toyota AE86, the rev-happy low powered engines seem to long for red line abuse.
After completing Stage 1 in the MX5, Step up to Stage 2 for your last 16 drifting laps in the more powerful, more aggressive Nissan 350z. A 3.5 litre V6 has made this the weapon of choice in drifting, having been used competitively across the globe – a popular choice for Formula D and D1 Drift Championships.
This experience is offered at 50% of it's true value, as a Direct Book Only Exclusive, thanks to Driver Club
Get access to 50% off this and a huge range of experiences for free, just by signing up.
Take part in the optional 2020 'Drift Trophy Challenge'.1 winner every month. 1 trophy every year. The Trophy winner will be awarded £1000 towards preparing their car at DL Performance our friendly specialist workshop or a bespoke 1:1 motorsport driver development programme to begin your motorsport journey.
30 Minute Introductory Briefing: Covering drift lines, throttle / braking technique and track day safety etiquette.
4 x Sighting Laps including 1 passenger hot lap in our drift prepared Mazda MX-5.
16 x Laps drifting the Mazda MX-5 on track with a member of our Motorsport Academy instruction team.
16 x Laps drifting the Nissan 350z on track with  a member of our Motorsport Academy instruction team.
Approximate Experience duration: 120 mins
Use the arrow on the top right of the calendar to navigate forward in time and choose your booking date. Please ensure you read our Terms and Conditions which are accepted when placing your booking order.
Session Information
Height and weight restrictions can be found here
Physically fit with no serious health conditions
Glasses must be worn if needed
Full manual driving license
Flat-soled shoes must be worn
Calendar Key:
Red: Fully booked
Green: Spaces available
Green with brown corner: Limited spaces available
Date not highlighted: Not available
'No Blocks' message: No space available