Driver Club – Thrill Experiences
Driver Club – Super Car Thrill Experience
30 Minute Introductory Briefing: Covering racing lines, throttle/braking technique and track day safety etiquette.
4 x Sighting Laps including 1 high speed passenger lap in a track prepared sports car.
8 driving laps in each supercar with an instructor co-driver.
---
Available vehicles:
Aston Martin V8 Vantage / Bentley Continental GT / Audi R8 / Porsche 911 GT2 / TVR 350c / Maserati Gran Turismo / Lotus Evora / Dodge Charger Police Car / Fast and Furious Nissan R34 Skyline / Fast and Furious Toyota Supra / Tesla Model S P90D* / Dodge Viper VX SRT* / Ariel Atom 300* / 1968 "Bullitt" Ford Mustang* / Ford "Eleanor" Mustang* / Nissan GTR 1200 Horsepower* / Lamborghini Gallardo* / Ferrari 360 Modena*
Please note all cars are subject to availability on the day.
*Flagship cars require a £20 upgrade payable on the day
---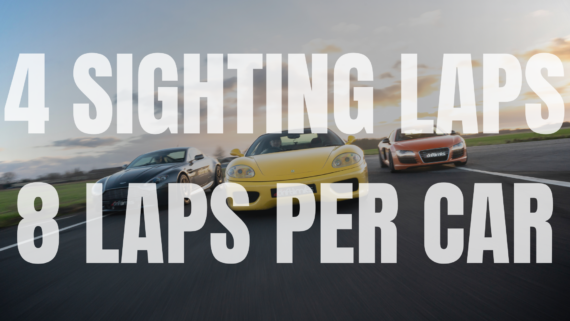 So What Is a Thrill?
It's always fun to see the excitement emanating from our guests as they choose between their favourite supercars – it's a hard choice and that's why the Thrill Experiences are so good; they give you the flexibility to choose on the day. Our friendly motorsport instruction team will help build your confidence and develop your track driving skills enabling you to drive dream cars that you never imagined driving, cornering at speeds you never imagined possible.
Available vehicles:  Aston Martin V8 Vantage / Bentley Continental GT / Audi R8 / Porsche 911 GT2 / TVR 350c / Maserati Gran Turismo / Lotus Evora / Dodge Charger Police Car / Fast and Furious Nissan R34 Skyline and Toyota Supra / Tesla Model S P90D* / Dodge Viper VX SRT* / Ariel Atom 300* / 1968 "Bullitt" Ford Mustang* / Ford "Eleanor" Mustang* / Nissan GTR 1200 Horsepower* / Lamborghini Gallardo* / Ferrari 360 Modena*
Please note all cars are subject to availability on the day.
*Flagship cars require a £20 upgrade payable on the day