Junior Driving Experiences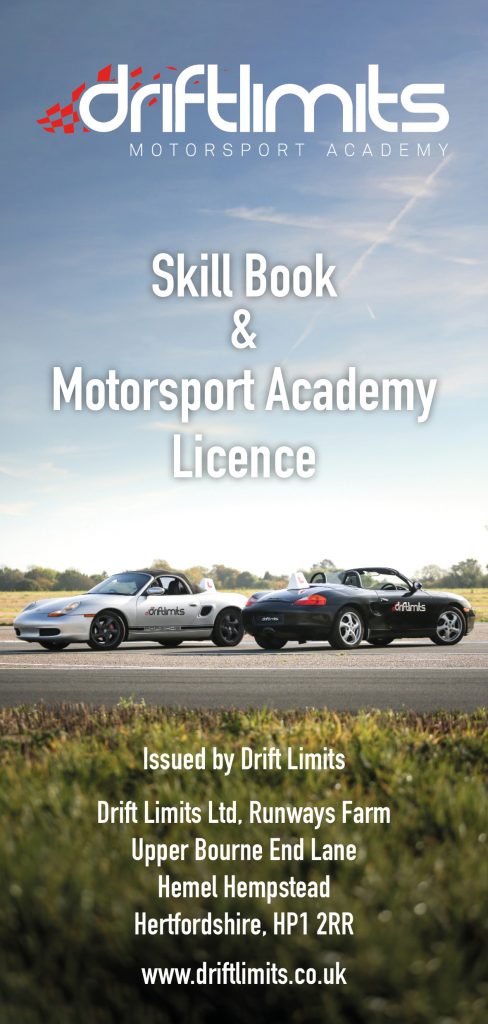 The Under 17s Experiences
Drift Limits lead the way with under 17s driving experiences that are formulated not only to be fun drives, but develop skill that lasts a lifetime.
You will learn the basics of driving by an approved instructor on our circuits, usually frequented by Lamborghinis, Ferraris and Porsches, now your own playground for getting to grips with driving a real, two seater, manual sports car. The layout of our circuits in a safe and stress-free environment, perfect for your first lesson but full of challenges for the second and third.
You will be driving a dual controlled Mazda MX-5, Porsche Boxsters or Pro Series cars as you practice essential car control and build up confidence, which will fast track your driving for when you are ready to drive on the roads, taking on the highway.
We will start off with the absolute basics of driving, from steering the vehicle to clutch control, braking and thinking about the road ahead which will get the driver into good habits of how these should be done properly. The addition of dual controls means the instructor can intervene if necessary, giving some comfort to parents watching from the pit lane. Our programme will have you shifting gears yourself within 10 minutes of sitting behind the wheel.
As you progress with our courses we will build up speeds of up to 40mph, driving around the whole circuit and even implementing racing lines.
As you become more confident, we move through the Levels 1-3 from Fundamentals of Driving to Activities and Higher Skills. All of these manoeuvres are paramount to getting you around our track safely, learning car control and taking on the roads out there.
Drivers further their understanding about potential hazards on the road and how to respond to them in a practical scenario, safely off the roads. Safety is paramount but the emphasis is on having fun in a car.
The Under 17s Motorsport Academy Skill Book
Every driver who takes part in an Under 17s experience has their own Skill Book that's filled out during their drive and taken home with them.
Drift Limits record all that's achieved during the session.
Our team mark on the skill book whether participants have tried out and 'Tasted' one of the skills our manoeuvres, become 'Skilled' in that key ability or have 'Mastered' it.
This skill book is not only a great progression guide that shows where you're at, but can be brought back and given to your next instructor, in order to continue your journey in developing driving skills and mastering driving in fully manual sports cars on our safe, spacious tracks.
Progressing through your journey, you can undertake the Motorsport Academy Licence experience and be challenged by our professional instructors to prove yourself.
If an instructor likes your style and skill, they'll sign off your Licence and you'll be able to drive Supercars, Drift on the Memphis Circuit and even learn Stunts from the movies!
Be aware though, just like the Police, we can take your licence away for dangerous driving! Keep up that skill and you'll find transitioning to road driving to be a breeze.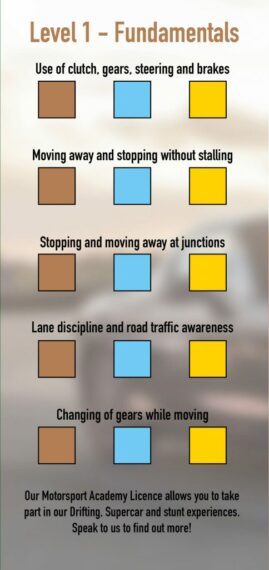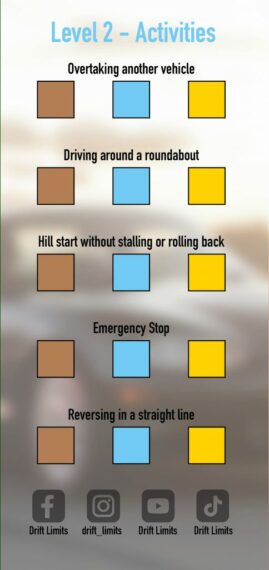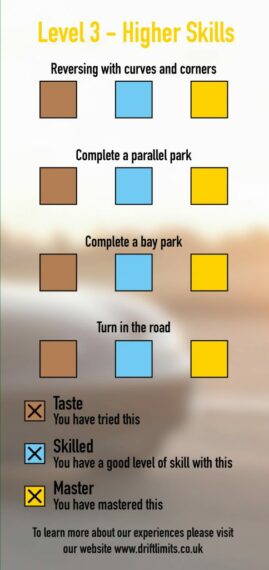 A
As well as our 1 hour Fun Drive and 2 hour Fun Drive Advance experiences including Driver Training and Development,
Drift Limits instructors can assess your driving with the Motorsport Academy Licence.
This 30 minute experience, if passed, allows you to join in on our other faster, more intense driving experiences.
Fancy driving Supercars, becoming a master of Drifting or even becoming a Stunt Driver?
All before you're old enough to drive on the road?
We'll put you through this examination under challenging conditions. Pass and we'll sign off your licence!
If you absolutely cannot wait to get behind the wheel, take on a 3 hour Fast 2 Track experience.
It includes 2 and a half hours of training, followed by the 30 minute examination at the end.
Fun Drive 
Take the wheel alongside our approved instructors, allowing you to drive in a stress free environment within the openness of our circuit! The result? A far more engaging and fun approach to your first driving experience, keeping you ahead of the game and accelerating your driving ability much earlier than you would on the busy public roads. Average seat time is approximately 45 minutes.
Fun Drive Advance 
Drivers can further their understanding about potential hazards on the road and how to respond to them in a practical scenario off the roads. Safety is paramount but the emphasis is on having fun! Practice essential car control building up confidence. Average seat time is approximately 1 hour and 40 minutes.
Fast 2 Track
If you seriously can't wait to get behind a selection of supercars and drift cars and join the adult track day driving experiences, our Under 17's Fast 2 Track programme for children aged 11-16 is probably the experience for you. With 2hr 30 mins of driving, youngsters will have enough time to master the basics of car control and further their understanding about potential hazards on the road and how to respond to them in a practical scenario off the roads.
Motorsport Academy Licence 
After a quick practice, one of our instructors will ask you to perform a series of activities, checking your skills and abilities. If you pass, you'll be awarded your own Motorsport Academy Licence, which opens up the world of Drift Limits to you, unlocking the next level of driving. This enables you to then progress into our supercars such as Lamborghini's or Ferrari race cars, joining the adult sessions flat out around our track, before you even pass your driving test! 1/2 hour experience including briefings and Motorsport Academy Licence.
Want to know what you can drive with us when you pass your Motorsport Academy Licence or get your full UK driving licence?