Coronavirus (COVID-19) and Drift Limits
Due to the Covid-19 Corona Virus, Drift Limits is currently closed for all driving activities.
We are currently hoping to start operating driving experiences from the 6th of July 2020.
This date and those up to and including October are currently available for booking via our website.
Please DO NOT PHONE US as our office is also closed.
Our staff are working remotely in limited numbers and only have access to email.
If you are concerned about your booking that you have placed with us, rest assured that we will be in contact with you,
should your booking need to be postponed due to UK Government advice.
There is no need to call or email us, we will be in touch with you.
Please bear with us at this time as we have only limited staffing resources.
We ask that you send any immediate and important queries via email, we will reply as soon as possible.
Giving you reassurance for when you visit
Keeping the site clean and disinfected
Before the UK Goverment instructed that we should be closing, we started to implement some incredible levels of disinfection and cleanliness at Drift Limits, in order to combat the risk of infection and spreading COVID-19.
Honestly, we would have made even the pickiest microbiologist proud.
We're a clean bunch, even though some of us might end up covered in oil and grease now and then. Of course, we keep everything on site as clean as we possibly can.
We keep the windows ventilated and doors pinned open whenever possible for great airflow indoors.
Throughout the day, all surfaces that customers may come into contact with are disinfected and cleaned.
We'll continue these measure into the future, as soon as we re-open to be certain that this virus (or any other) doesn't make a comeback!
Fighting it on the track
We have drastically increased our cleaning supplies on site, issuing every single instructor with a bag of anti-bacterial wipes that they will continually use throughout the day to wipe internal and external surfaces in our cars after each use.
Our instructors learnt to the urge to be as hospitable as possible. Whereas we used to greet every customer with a firm handshake and a hello, we stopped doing this and instead will greet with a nod and a smile. Although this part of the service has had to be removed, nothing has been changed in regards to the experience you get and they'll be as helpful and challenging as possible throughout your time on track to help you get the most out of each car.
In car, you must wear a face-covering (mask) and the instructor will do too. This way, both of you are protected and the risk of spreading anything is vastly reduced.
It's very important that when you're driving, you look straight ahead and not at our instructors. Taking your eyes off the track usually ends badly! The UK Government have stated that sitting next to someone and not looking at them vastly reduces the chance of catching a virus. We'll reduce face-to-face to a minimum.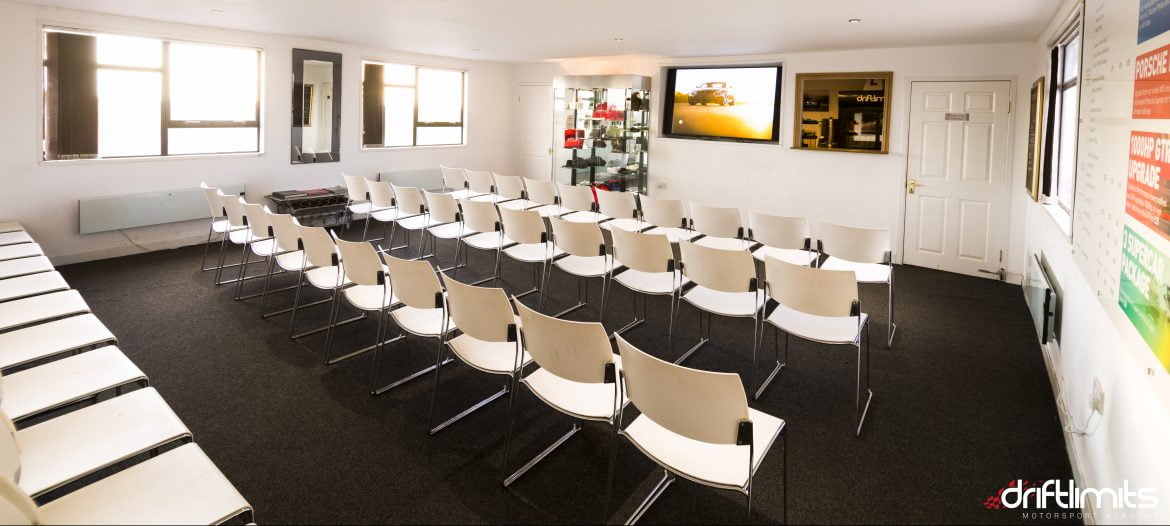 Briefing Room Arrangements
Previously, we had seating for up to 44 people in our briefing room. Following the COVID-19 breakout and the advice to social distance, we removed over half the chairs in our briefing room and placed markers on the floor to show their location. Each chair gave adequate distance from the person next to them and we staggered the positioning across rows, giving much more space in front and behind too.
Briefings are only for drivers, with spectators asked to stay outside to reduce numbers. We do all we can to reduce the amount of time inside for all involved.
This will continue for the time being until social distancing measures are considered to not be required.
The outhouse facilities
Due to planning constraints, we have overground toilet facilities at Drift Limits. We do however, work continually on these around the clock to ensure they are as clean as possible.
Fresh water is constantly added and we keep a high stock of anti-bacterial hand soap for you to utilise during your stay.
Contact-Free Hand dryers are available in both bays to allow you to dry off easily.
Please respect all your fellow visitors and leave these facilities in the same clean state as you found them – and only use that which you need.
Please socially distance when in the toilets. If you can see that there are people in the space you wish to be, please wait outside wherever possible.
Face to Face
We've implemented a Mandatory Mask Policy at Drift Limits and will ask anyone not arriving wearing a face covering to purchase one from us.
N95 masks can be purchased from us at reception for only £4 each. They must be worn at all times when interacting with anyone other than your own family and whenever inside our buildings or cars.
The UK Government have also advised that we all wear masks when somewhere you usually aren't and where social distancing isn't possible.
Our staff will be wearing N95 masks at all times for your safety.
Our site has been amended with a one-way system to reduce face to face movements as well.
Any questions
If you've got any questions about Drift Limits and Coronavirus, please take the time to read our special FAQ below and Terms and Conditions pages.
Novel Coronavirus COVID-19 - Our Policy
Mandatory Mask Policy?
In line with advice from the UK Government, masks and face coverings can significantly reduce the chance of transmitting the virus and they advise that people wear them whenever in an enclosed area that you wouldn't usually be (basically not at home) and where social distancing isn't easy or possible – like on a bus or train.
We require that masks are be worn when on site with us. We recommend you keep them on at all times, for the safety of everyone on site. Each person that wears a mask reduces the chance of any virus being transmitted. If we all wear them, the risk is reduced significantly further.
We understand they aren't the prettiest things so if you want to take them off when having your Portrait Photos taken, no problem, but please put them straight back on.
We have acquired a stock of N95 masks and are offering them at COST PRICE to all our guests.
Since we've bought in bulk, we can pass the savings on to you at only £4 per mask.
All our staff will be wearing them at all times for your protection. Please, respect our staff and respect our other guests.
What's going on with my experience booking? Have I lost all my money?
No you have not.
We have made the decision to POSTPONE ALL experiences which are due to take place in the near future.
This is due to the British Government's advice regarding Covid-19, social distancing, closure of Leisure Facilities and the ongoing effort to get rid of this vicious viral threat to the human race.
POSTPONE does NOT mean CANCEL.
We have not cancelled your experience and run away with all your money.
We are a reputable business and as per our terms and conditions, accepted when booking, we will offer your experience on another date.
If we haven't contacted you as yet, your booking has not been postponed.
All experience bookings placed are important to us and important to you. You placed it for that date and time because that's what you wanted and it's our mission to make sure it happens. If for any reason, we can't make that date happen (ie Boris says so) we'll get in touch as soon as possible.
We're working through customer's bookings periodically and emailing people in small groups. Our Admin team are working remotely in reduced numbers and we're exceptionally busy at this time. In order to ensure we can reply to affected customers in a timely manner, we are working through experiences that need to be postponed periodically and replying to customer emails in a chronological manner. We do not want to postpone any experience booking unnecessarily and are constantly monitoring the Government's advice and status.
Please, await our emails and
DON'T PANIC
Think about the important things in life – your friends, family and loved ones…
…and always know where your towel is.
What does the 'one free re-booking' mean? If I re-book and you have to postpone again, do I have to pay?
Should your subsequent re-booking need to be moved by Drift Limits due to the current COVID 19 situation, this would be done without charge. No matter how many times – but hopefully only once!
Please, re-book your experience for the next available date that you can attend. Don't worry about re-booking, if we have to shuffle again, we'll be in touch and we WILL NOT CHARGE YOU.
Essentially, any booking moved by Drift Limits due to any circumstance, is done so without any charge to you.
Please realise, we're as much at the mercy of this as you, doing everything we can to ensure that this virus pandemic slows and we can all be back to normality as soon as possible.
Please note:
Should you wish to amend the date of your re-booking for any other reason, this may incur a re-booking fee in line with our terms and conditions.
When are you re-opening?
That's not only up to Boris Johnson and the Great British Government, but the Great British People too.
We are currently hoping to start operating driving experiences from the 1st of June 2020.
This date and those up to and including September are currently available for booking via our website.
If we all practice Social Distancing, the sooner we kick this virus into submission, the sooner we can all start to have fun again.
Encourage your friends and family to distance themselves as per Government and NHS guidelines and we'll be back on track soon, with thousands, if not millions of lives saved.
My voucher expires next week. What do I do?
I don't have a booking yet and my voucher is expiring!
If you haven't got an experience booking with us yet and your voucher is expiring soon, GO PLACE A BOOKING NOW.
We'll redeem your voucher so you don't have to worry about it expiring and worry about you losing any money.
If we have to postpone your experience due to the virus not being defeated, we will let you know.
I have a booking and my voucher is expiring soon! Help!
Don't worry at all. We've redeemed the voucher so the expiry date is now redundant. Any postponement to your experience is all under our control and you don't have to worry about any third party voucher company or the expiry date on the voucher you bought from them.
I don't know what date to book for / I'm not happy placing a booking with you until I am absolutely certain you're going to be open.
No problem. If you haven't placed a booking yet, send us your voucher details via email and we'll redeem the voucher and keep your details on file. When we're open again, we'll email you and give you 90 days to arrange a booking with us, all via email. This takes away all the concern regarding voucher expiry and allows you to focus on the important things while we get everything ready for you.
If you have already placed a booking but aren't sure when to re-book yet, there's absolutely no reason to rush into re-booking your experience. Your voucher expiry is no longer an issue. As you've redeemed your voucher to place the experience booking, the expiry is longer a concern. Please ignore any suggestion on your voucher that you 'must take the experience before the voucher expiry' as this is no longer the case.
Our 90-Day re-booking period gives you more than ample time to re-arrange your booking with us and lay any concerns to rest.
You can read more about how the 90 day period works, further down in our FAQ.
We're opening availability for booking at double the amount we usually do – 6 months ahead into the future and will be continually opening more dates as the months pass. You can, in effect, wait until the 89th day from your booking date and contact us to say you want to book on the last day of the furthest month away in our bookings calendar that's published on our website on that date.
In the hopefully very unlikely instance that we have to postpone your booking again, we'll let you know.
I paid a Saturday Surcharge, have I lost it?
Your website says Saturday Surcharges are non-transferrable. Have I lost that money?
No.
When re-booking your experience, your Saturday Surcharge will be utilised for your next booking.
If I want to re-book to a weekday, will you refund this?
We greatly recommend you keep the credit with us; putting it towards extra laps, media and cdw options on the day of your experience.
You are welcome to request a refund, however they do take some time to process and the credit can be put to better use.
Bookings through certain agencies may require you to contact them directly should you wish to get a refund.
We're happy to confirm if this is the case through email.
I bought Cancellation Indemnity, has this been affected?
If we have to postpone your experience due to Covid-19, If you're self-isolating or heaven forbid, if you have caught the virus, your cancellation indemnity remains unaffected. We won't use that credit up.
Essentially, including the Covid-19 re-booking, you've got 2 re-booking credits.
What does the '90 day period' mean?
The 90 day period is a 'please get in touch with us within' time frame. That's it.
We ask that you get in touch, via email, within 90 days (basically 3 months) of the date that your experience was booked for.
If your experience was booked for the 1st of January 2020, you'd have to email us by the 31st of March 2020. That's some time!
Still confused? Use this handy tool to input when you're booked in for and add 90 days to it. There's your cut-off date.
https://www.timeanddate.com/date/dateadded.html
YOU DON'T HAVE TO RE-BOOK THE EXPERIENCE TO WITHIN 90 DAYS OF YOUR ORIGINAL BOOKING.
We know that some people have been confused and have been emailing us saying they won't ever get to do their experience, because we will probably still be shut in 90 days.
Firstly, we certainly hope not!
Secondly, that's not true at all.
All you have to do, is not leave us hanging around and get in touch. Within a 90 day period.
If you don't contact us within the 90 days, which is a long period of time, you'll have to pay a re-booking fee.
ANY of the dates published on our website, for booking, can be chosen.

With us currently opening dates SIX MONTHS IN ADVANCE, that's a huge time period to re-book into.
If you've paid a Saturday Surcharge previously, that can be carried over and will be carried over free of charge.
If you haven't previously booked for a Saturday and want to re-book onto a Saturday, you can… but a Saturday Surcharge will be due.
Need more confirmation? Get in touch and we'll explain in more detail.
I'm over 70 and I've been told to self isolate for a horribly long time. What do I do?
Please, get in touch with us via email. We'll talk with you directly about how to re-book your experience with us in the future.
Of course, no charge will be due.
Why can't I call you?
Due to social distancing measures, our staff are currently working from home and our office is now closed.
Don't worry though, please email us instead.
We will read your email and we will get back to you.
Our staff are working as hard as they possibly can. We usually state a reply within 2 working days – however due to a reduced team size, this may take longer and we ask that you bear with us.
We work through emails chronologically as they come in, to be fair to all our customers.
Chasing emails will result in your email being pushed to the back of the queue and will likely delay any response.
Be patient, be kind and we'll help. Being abusive to our staff is not something we will accept.
I've got another query that isn't in the FAQ
Sorry about that, we'll be updating this as much as we possibly can.
You can always have a look through our Terms and Conditions Page for more info.
If you can't find it there, the next step is sending us an email.
You can do this via the contact us page or at info@driftlimits.co.uk