Coronavirus (COVID-19) and Drift Limits
Thanks to every single one of our customers who has fought hard against the virus,
held on tight with us and continued to support us through the 1st, 2nd and 3rd lockdowns.
We're now open again and happy to welcome you back.
We have contacted all previously postponed customers by email.
Please check your email inbox and your junk mail for information.
We will answer all emails sent in to us to arrange re-bookings, in the order in which they are received.
Please do not send chase emails as this will push your ticket to the back of the queue and delay your reply. 
Giving you reassurance for when you visit
Keeping the site clean and disinfected
Before the UK Goverment instructed that we should be closing for the 1st lockdown, we started to implement some incredible levels of disinfection and cleanliness at Drift Limits, in order to combat the risk of infection and spreading COVID-19.
Honestly, we would have made even the pickiest microbiologist proud.
We're a clean bunch, even though some of us might end up covered in oil and grease now and then. Of course, we keep everything on site as clean as we possibly can.
We keep the windows ventilated and doors pinned open whenever possible for great airflow indoors.
Throughout the day, all surfaces that customers may come into contact with are disinfected and cleaned.
We ask that you remain vigilant, wash your hands with soap and water often and utilise our facilities upon arrival and departure to again, fight the virus and minimise risk.
There's a hand sanitiser pump for use before you enter our pit lane area and one when you enter our main building. Please use these whenever you pass them.
We'll continue these measure into the future, to be certain that this virus (or any other) doesn't make a comeback!
Fighting it on the track
We have drastically increased our cleaning supplies on site, issuing every single instructor with a bag of anti-bacterial wipes that they will continually use throughout the day to wipe internal and external surfaces in our cars after each use.
Our instructors learnt to fight the urge to be as hospitable as possible. Whereas we used to greet every customer with a firm handshake and a hello, we stopped doing this and instead will greet with a nod and a smile. Although this part of the service has had to be removed, nothing has been changed in regards to the experience you get and they'll be as helpful and challenging as possible throughout your time on track to help you get the most out of each car.
In car, you must wear a face-covering (mask) and the instructor will do too. The mask must be N95/KN95 or greater grading and stamped as such. This way, both of you are protected and the risk of spreading anything is vastly reduced. You can read more about our mask policy below.
Please remember to use the anti-bacterial hand gel supplied in the dispenser before you enter our pit lane and when leaving it.
It's very important that when you're driving, you look straight ahead and not at our instructors. Taking your eyes off the track usually ends badly! The UK Government have stated that sitting next to someone and not looking at them vastly reduces the chance of catching a virus. We'll reduce face-to-face to a minimum wherever possible.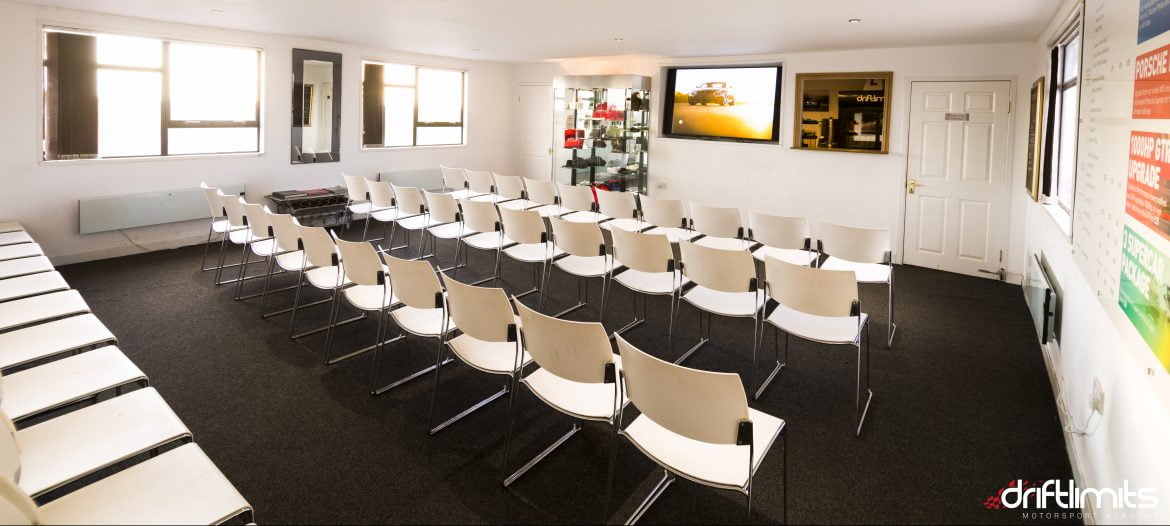 Drift Limits Customer Transparency and Information
At Drift Limits, we are pulling out all the stops and doing everything that we can do to fight COVID-19 and keep our customers and staff safe.
We've created a Transparency Document that we used as part of our staff training here, that's been designed to be open and clear, for everyone to read.
To be easy to digest, we've split each of the chapters into 'accordion sections' below so you can peruse at your leisure on this page.
We do ask that everyone reads through what we've written below so you're fully aware on what to do when you come to us and confident in us as a safe place to visit, a safe place to be… and a fun place to be.
From 19th of July Onwards
As you may be aware, the removal of restrictions is planned to happen as part of the UK Government's 'Stage 4' and this will change how we operate experiences at Drift Limits.
We'll be able to operate experiences free from the requirements of Social Distancing and use of masks will become optional.
The UK Government has advised that you do choose to wear a mask when in close proximity with someone who you don't usually meet.
When in our cars, with our instructors, this will be the case. As such, we advise use of masks but will not require them.
As a company that cares about it's staff and giving them the freedom of choice, we will not be insisting that they wear masks when in cars. However you will be able to request that our instructor wears a mask when in the car with you, or your family member.
We have a large stock of KN95 masks available for purchase on site if you do not have your own mask. Should you wish to purchase a mask with the proven filtration level to stop viral particles, you will be able to do so from reception.
We will continue to monitor the situation and should we decide to implement a policy to protect our staff and customers from the risk of infection, we may decide to require use of masks within our cars and reserve the right to implement this at any time.
In our briefing room, more chairs will be available. We currently space out all seats but will be filling gaps in and allowing more people back inside to join their friends and family who are participating in experiences.
Larger group bookings will of course be able to book in with us, so bring on that birthday celebration, stag or hen do, team building exercise or just reason to have loads of fun with a group of mates!
We will continue to keep our cars and site clean and tidy and sanitised wherever possible, to reduce the risk of transmission of COVID-19, related variants and other infections.
The use of NHS Test and Trace or sign in to our venue via our own QR Code will no longer be a requirement. We do encourage the use of the system, however we will not be requiring it for all guests over the age of 16 as it will no longer be a legal requirement. The signing of our disclaimer forms to partake in experiences will continue.
If you are self-isolating due to instruction from NHS Test and Trace, you will still have to provide proof in order to obtain a single free re-booking from us. All other reasons for rebooking experiences or rebooking requests without proof of instruction to self-isolate will continue to be bound by our standard terms and conditions of rebooking and a fee will be due.
The Directors of Public Health could at any time decide that we must implement social distancing and other measures to control an outbreak.
Our measures may change at any time as we keep a close watch on the situation and the UK Government and Public Health England give advice, so please be aware that the measures in place here may be subject to change.
Overview
A Drift Limits Transparency Document 
COVID-19 Safety 
Overview 
This document outlines the risks to employees and customers at Drift Limits and how we address them.
Goals 
1. To identify the risks involved with Coronavirus and how we as a company can protect  our staff and customers from infection
2. To educate all employees of Drift Limits so they can work safely and minimise the risk  of infection and transmission of the disease.
3. To educate all customers of Drift Limits with complete transparency as to our methods
4. To ensure a safe workplace for all.
Detailed Explanation of Concept 
Coronavirus is a fast to transmit disease and can cause serious health concerns. It can be  deadly to those with underlying medical conditions and the elderly.
We want to do all we can to ensure all our staff are as safe as possible when working at Drift  Limits and our customers can visit us safely without issues for any party.
Through the following pages we will cover the risks associated with our workplace, what we can  do to eradicate those risks or reduce them significantly.
It takes all of us working together to make sure this works so please, take everything seriously  as the ones who suffer will be yourselves and your colleagues.
What is COVID-19?
Coronavirus Disease (COVID) is an infectious disease, caused by a Coronavirus.
It's a family of viruses, which attach themselves and work into cells in living organisms, taking  proteins and suchlike that they require, in order to replicate themselves. Coronavirus is named  so because of the crown-like appearance. The virus itself is not classed as a living thing. It exists, but only to replicate itself. In taking parts away from your own cells and in it's replication,  it damages the host and therefore causes illness and disease. It's hard for the body's own  immune system to recognise and get rid of and in doing so, can cause serious complications.
The main symptoms of coronavirus disease are:
● a high temperature
● a new, continuous cough – ( coughing steadily for over an hour or 3 or more continued  coughing instances in 24 hours)
● a loss or change to your sense of smell or taste
The official names are:
Disease​ – coronavirus disease (COVID-19)
Virus​ – severe acute respiratory syndrome coronavirus 2 (SARS-CoV-2)
The Disease is caused by the Virus.
Spreading of the disease is primarily through drops of saliva or bodily fluid discharge from  sneezing or coughing.
You can learn more about Coronavirus at the following links: 
The World Health Organisation website at:  https://www.who.int/health-topics/coronavirus#tab=tab_1
The NHS Website at:  https://www.nhs.uk/conditions/coronavirus-covid-19/ 
Risk Assessment
A risk assessment has been written up in direct relation to COVID-19 at Drift Limits
This document will cover the risks we have identified and how you can keep yourself  safe, your co-workers safe and of course, our customers safe.
If you wish to have a copy of our Covid 19 Risk Assessment, please contact info@driftlimits.co.uk and it will be sent out to you.
Four Tier System Rules and how it affects your experience
Currently, Tiers in the UK Are not in place as restrictions are easing.
Should things change, here's the below for reference.
TIER 4 – Stay At Home
Under new Tier 4 restrictions, you must stay at home and not attend our experiences.
TIER 3 – VERY HIGH
Under new Tier 3 restrictions, we are open and operating COVID-19 safe experiences.
If you do not wish to attend your booking, please contact us with a minimum of 48 hours notice.
TIER 2 – HIGH
If you are located in a Tier 2 – High area, you can attend your experience as booked.
You are not covered by travel restrictions and can visit our site. You are also not 'socialising' with others.
Rule of 6 still applies to your group. Please socially distance from others.
We operate experiences in a fully safe and secure environment, supplying alcohol gel and washing facilities
with a well-ventilated briefing room in which all persons wear masks and seating is distanced and regularly sanitised.
As an added precaution, we advise the wearing of a N95, KN95, FFP2 or greater rated mask during the briefing
if you are coming from a TIER 2 – HIGH area.
You will have to wear one of these masks when in our vehicles with our instructors.
These can be purchased from Reception if you do not have one.
We will, as usual, ask that you sanitise your hands before entering the car and we will sanitise all contact surfaces
following your experience.
TIER 1 – MEDIUM
If you are located in a Tier 1 – Medium area, you can attend your experience as booked.
Please follow all COVID-19 guidelines and regulations as posted here on our website.
An N95, KN95, FFP2 or greater rated mask must be worn when in our vehicles.
These can be purchased from Reception if you do not have one.
We will, as usual, ask that you sanitise your hands before entering the car and we will sanitise all contact surfaces
following your experience.
Information about us
We are a leisure facility with primarily outdoor operation.
Indoor leisure is permitted under High Alert.
You are not socially meeting friends and family indoors, however your group must adhere to the rule of six.
Masks must be worn indoors as with our standard mask policy.
  Should Drift Limits local council change our area's Tier Rating at all, we will contact all affected customers to advise and postpone any affected experiences until the risk rating is lowered.
We will, as we have done since the virus emerged, continue to take COVID-19 measures seriously and ask all customers to follow 'hands, face, space' advice with sanitation, masks and social distancing.
One Way System
We've implemented a signed, one way system on site for everyone to adhere to.
New signs around the site indicate which direction to travel, with stickers on the floor in place to assist with queuing safely to enter the visitor centre.
All staff and all visitors must follow the one way system.
The one way system flows through the main building from reception to the back door of the building. The rest of the site is free-flowing and some areas may have dual direction traffic. Please be careful and navigate these safely. We have expanded areas with paths all around the main building.
There is no entry at all via the back door of the building.
Wash your hands / Use Hand Sanitiser
At the entrance to our site is our toilet block. It's distanced a little from reception, but can easily be identified. It's a large, white block with TOILETS written on the side. It's one of the first things you see when you arrive as the signage towards the car park is on the side of it.
We ask all visitors to visit these on arrival and when leaving to wash their hands.
Our toilets have been upgraded with touch-free soap dispensers and touch-free taps/faucets, all in the name of increased hygiene.
There is an Automatic Alcohol Hand Sanitiser dispenser at reception for all visitors to use.
We require all participants to use this upon entry to our visitor centre to sanitise their hands.
We've also got an alcohol hand gel dispenser located on/by our barriers just before you enter the pit-lane. Using this before you get into a car will greatly reduce any chance of risk. Using on the way out gives the virus both barrels.
NHS Track & Trace
Any person over the age of 16 who visits our site, regardless of if they partake in any experience with us, must give their name and contact telephone number to us for NHS Track & Trace / Test & Trace purposes.
We have a QR code that can be scanned with your smartphone camera, for easy and secure information collection. If you are arranging laps on the day, turning up for an Arrive & Drive or booking laps for a friend or family member, you must supply the participant's name and contact telephone number to reception or scan them in.
In the case of Under 17s, the contact details for a parent would be requested to go alongside their name.
We require ALL VISITORS OVER THE AGE OF 16 who enter our site and use our facilities (cafe / pit & paddock / toilets) to scan either our non-intrusive, GDPR Compliant Track and Trace system Barcode, which holds data for 21 days in line with the NHS Track and Trace request, or use the NHS app.
If you do not agree to scan the code or supply your information to reception for Track and Trace, you will be asked to leave.
We have the NHS' own QR Code system that works with NHS Test & Trace App.
The NHS Test & Trace App can be downloaded from the app store or google play.
If you utilise the NHS system, please do not use our other Track and Trace system (code on back of silver van and posters) as this will mean you are logged twice. The poster for NHS Test & Trace system and the code can be found in reception.
If you are informed by NHS Track and Trace that you must self isolate and thus cannot attend as booked, we do need to see proof of this in order to be able to issue you with a free rebooking. Without proof, a rebooking fee will be due.
Cafe Policy
Access is via reception and walking through the main briefing room if a briefing is NOT operating.
We will be closing our Briefing room door during briefings and the room will be accessed only by persons having a briefing.
If a briefing IS in operation, you can ask for refreshments at reception. Please respect the one way system. We ask that you queue with those waiting to go into reception to sign in and do not try pass them. Our reception staff are efficient and you'll find queues move down quickly. If attending with your family, we ask that you send one responsible person in to purchase refreshments.
We have added some easy-exit steps at our ramp so you can walk straight back out the front door (being careful to social distance from those waiting) and go back out into the pit & paddock area.
Social Distancing
Incredibly important and something most of us are experts at now, is keeping at least 2m away from others wherever possible.
The 1m+ advice requires you to be taking precautions if you're close to someone. The one way system on site will really help with this, as will masks! We ask for you to check the arrows around our site building, follow these and stand on/by them if queuing to ensure you're socially distancing.
Rule of 6
We ask that any family attending with a participant comply with the Government's 'Rule of 6' which is an evolving and confusing rule. Direct link available here to the Gov.uk website.
No more than 6 people from multiple households can come together. This does include spectators as well as participants.
We are happy to book in multiple mini groups of 6 on one day, however they must be in separate sessions and there cannot be intermingling or switching of people between groups.
The new rules regarding Rule of 6 allow families to attend together if more than 6 – but no more than 2 households.
It is an unfortunate situation we find ourselves in, however we must comply with this rule as both Drift Limits and the visitor's group would be at risk of prosecution and of spreading coronavirus, putting more people than necessary at risk.
You must ensure that you socially distance when on site with us and follow all precautions to stop the spread of COVID-19.
Again, we understand that this experience is incredible special and could even be a once-in-a-lifetime thing that many of you will have travelled a long way for. However, we do ask that you try keep numbers that attend with you to a sensible amount.
If you're looking for an experience in which 6 people can take part, the best option for this is our Police Pursuit Experience, in which six drivers or passengers jump in Mazda MX5s or Porsche Boxster and put skill and navigation to the test to evade our trained Police Officer, chasing in a Dodge Charger Police Car or BMW M3 Police Pursuit vehicles.
Limited Entry to the Visitor Centre Building 
We ask only the participant of the experience to enter reception and the main building. This is due to us having to reduce numbers inside, as all shops, stores and buildings do at this time.
We comply with the 'rule of 6' by ensuring that people are socially distanced, spend as little time as possible inside and wear masks while doing so.
All spectators must head straight to the spectator area upon arrival. The participant will be filling  in paperwork and signing in with us. If the participant is under the age of 18, they will require ONE​ parent or guardian to sign in with them. Any more will be considered spectators and asked to immediately go outside.
We ask that any family attending with a participant comply with the Government's new 'Rule of 6' by ensuring that no more than 6 people from your family unit attend to spectate.
You must ensure that you socially distance when on site with us.
To arrange photography or a damage waiver for an experience, the safest way is to pre-book this and pay via our website. If you wish to add this while on site with us, ensure the participant requests this, or speak to a front-of-house team member outside who can arrange and radio indoors.
No buggies or pushchairs will be allowed indoors under any circumstances. We advise those with little ones to keep clear of all other parties. If it is likely to rain, please bring a rain cover with you as we have limited sheltering areas.
Please note that due to the one way system, some staff may walk through the building during briefings.
We ask those that do to KEEP QUIET and not disrupt the ongoing briefing.
There will be no viewing from indoors.
In the case of inclement weather, we ask drivers to please take shelter in the Silver Hospitality Truck area.
We advise all participants to be prepared with an umbrella or purchase a high quality, large Drift Limits umbrella from Reception.
In the interest of safety during this time, we ask spectators and non-participants to retreat to their own vehicles in the car park unless there is adequate space for socially distanced sheltering in the Silver Hospitality Truck.
Please understand that we do not place these restrictions on entry other than in the interest of the health and safety of all involved.
We care about all our visitors and our staff and want to ensure we can continue to operate a safe and virus free environment  for all involved.
Mask Policy
The UK Government have set into law that all persons visiting shops and similar premises must wear a mask from the 24th of July 2020.
We therefore require all visitors to wear masks when with us and in the vicinity of other guests, unless exempt.
Masks are absolutely compulsory when inside our visitor centre and briefing room.
All guests taking part in driving experiences with us, MUST wear a mask that is N95 / N95, KN95, FFP2 or better grade, unless exempt.
The mask should be clearly marked as such. These are the only masks that have been proven scientifically to stop coronavirus in it's tracks and keep the wearer safe.
We take the safety of our customers and of our instructors exceptionally seriously. We want you to be confident that you're safe and that Drift Limits is a safe and fun place to be. In order to ensure this virus ends and we're rid of it as soon as possible, the non-transmission of the virus is our highest priority. Second only to the safety of our customers and cars on track. Due to the extended period you are spending within our cars, in close proximity to one of our instructors, we have had to insist that the best possible masks are worn.
Unfortunately, home-made washable masks are ​not sufficient​.
If you do not have a mask that's suitable, we have KN95 grade masks on site that you can buy at cost price.
These masks are scientifically tested and confirmed to be able to block coronavirus transmission so you can be confident that you're safe with us.
They're re-usable of course, so that's a mask you can use to keep safe again and again.
Staff working alone do not have to wear masks, however we advise that they do as particles can rest on surfaces, either from their own transmission or those they have  disturbed while working. Staff may also wear gloves. Both are provided by Drift Limits.
We ask that everyone be considerate and kind in light of the use of masks and protective equipment and do make sure that you can understand/hear all people when they talk  with you.
​Do not remove your mask to talk to someone​. Doing so undoes all our efforts through lockdown.
Do not be offended if someone asks you to repeat themselves.
There are screens at reception and at the café desk, however we advise you try not to take your  mask off at these points, as you'll need to put it right back on again once you move on. Please DO NOT put your head in the gap between screens, this negates the entire purpose of having them.
If a member of staff asks you to put your mask on, step back or comply with  social distancing, please kindly reply as they are only doing so in the interest of  safety for everyone.
Customers who are exempt from wearing a mask are welcome to wear a face shield if they wish to.
Helmet usage
Prior to the Covid-19 outbreak, customers were required to wear helmets during all  experiences. We do provide these helmets for customer use. We now encourage  customers to bring their own helmets for experiences if they have them.
Staff also wear helmets in cars that require them to do so.
Some of our vehicles and experiences do require the usage of helmets.
● Formula 1000 Single Seater cars
● Ariel Atom
● Lamborghini Huracan Super Trofeo
● McLaren MP4-12C GT3
● Drifting Experiences
● Stunt Experiences
● Police Pursuit Experience
This is due to either the vehicle being open top, roll cages close to your head or extreme  changes in direction that could result in bumped heads.
For other experiences in closed top cars, we are now changing our policy to:
HELMET USE IS OPTIONAL. 
If you do not wish to wear a helmet when undertaking any experience not listed above, you do not have to.
We do santise and clean our helmets after every use and issue hair nets for an extra layer of protection.
If you do use one of our helmets, please return it to reception after use for sanitising.
DO NOT PUT IT BACK IN THE RACK.
IMPORTANT 
Wearing a helmet does not mean you do not need to wear a mask.
The helmets that we use during experiences depend on the car being driven. If you're in a  car with no roof, they are full faced. In our F1000 Single Seater cars, once you're inside  the car and on your own, there's a reduced requirement for a mask.   When you're in our Ariel Atom, once you're moving, it's also reduced.
There are periods in which participants are in a car with an instructor or another visitor to  Drift Limits, who must be protected also.
This could be during sighting laps or talking to an instructor prior to driving – all  customers and staff require masks at these points in time. The full face helmets don't  perform the required filtration to adequately protect the person wearing it or those they  come into contact with. The circumstances require that 'extra step' in protection for you  and for your instructor.
For all other cars, which aren't convertible or lacking a roof, participants wear an  open-face helmet. With these, there's no visor or face plate. There's nothing there to stop  anything at all from coming into contact with your face.
All staff that wear helmets keep that helmet with them and clean it regularly.
Wherever possible they do not share that helmet with other instructors.
If this is unfortunately required, it will be sanitised inside and out before passing it to whomever requires that helmet.
Cleaning - Visitor Centre
Throughout the day, especially between briefings, we will be cleaning all around the site.  Any contact surfaces will be disinfected and we will continue to ensure a safe  environment as possible for all attendees.
If you are asked to vacate a chair for cleaning, please do not be offended. We are only cleaning the chair for the safety of all. There will likely be one chair next to it that you can use.
We ask that people remain vigilant and only touch items and surfaces if necessary to do  so.
Please avoid leaning on window ledges, walls and barriers around the site unless you  need to do so for mobility reasons. Helping us to reduce the amount of contact surfaces  will help us to keep the site clean and disinfected easier and therefore protect all of us  and stop the spread of the virus.
Windows in the Visitor Centre will be kept open for ventilation wherever possible.
Doors in the Visitor Centre will be kept open for ventilation wherever possible.
A good airflow has been recognised by Government advisers to reduce the risks  involved in virus transmission so we will maintain this whenever and wherever it is  possible to do so.
Cleaning - Reception
As with the rest of the visitor centre, this area will be kept clean, tidy and disinfected at  all times.
For participants who haven't filled out Disclaimer Forms at home and brought them with  them, we lend clipboards and pens with paperwork to customers needing to fill out  paperwork on site. These are disinfected after each use.
There are perspex screens at reception to protect both receptionist and participant.  Please do ensure you interact through the screen and not the gap between. This is only  for passing objects through such as paperwork, licences, clipboards etc.
Alcohol Hand Sanitiser is available in reception to clean your hands if you are not able to visit our toilet facilities to wash your hands upon arrival. This is through a dosed,  automatic machine. Please use sparingly and only as required for the benefit of all.
Media Packs, HD Video 
Customers may use a lanyard when on site with us to have video footage recorded,  either as part of a Media Pack or HD Video Pack.
Previous visitors may have been aware that we re-used lanyards, micro SD cards and USB readers and transfer footage to mobile  phones.
Due to coronavirus outbreak and minimising time with us on site, we will no longer be  carrying out this practice.
The SD Card, USB Reader and Lanyard are now included in the  price of your HD Video or Media Pack.
Cleaning - Toilet Facilities 
Our toilet facilities are overground units, we are restricted to these due to planning  constraints. They are checked, with the water refilled continuously throughout the day  and stocks of toilet paper and soap being monitored and filled when required.
We ask that all visitors and staff make use of the facilities to wash their hands upon  arrival and again when leaving us. There is alcohol hand sanitiser available in reception.
Make sure you wash your hands for 20 seconds as per NHS Guidelines.
Our toilets are fitted with contact-free taps.
Contact-Free Hand dryers are available in both bays to allow you to dry off easily.
Please respect all your fellow visitors and leave these facilities in the same clean state as you found them – and only use that which you need.
Please socially distance when in the toilets. If you can see that there are people in the space you wish to be, please wait outside wherever possible.
If you spot any issues at any time, please report them to a member of staff who will rectify them asap.
Cleaning - Cars 
Staff members clean our cars interiors and exteriors (when possible) to ensure you experience our vehicles at their best. To combat the virus, each instructor has a stock of disinfectant wipes to clean down contact surfaces throughout the day and we have extra stock all around.
These surfaces cleaned include:
● Steering Wheel
● Gearstick / Gear selector
● Paddleshifts on vehicles fitted with them
● Seat Controls and seatbelts
● Door Handles inside and out.
Although all effort is taken to ensure that the car is as virus free as possible, we cannot  clean every other surface inside and outside the car after every single customer.
This would drastically slow down and delay everyone's activities.
This is why we insist that all  persons wear masks and some of our instructors will wear gloves.
If you wish to wear gloves, we ask that you wear proper fitted driving gloves that allow a  great grip on the steering wheel as rubber / plastic / nitrile gloves may affect your ability  to control the vehicle and could result in unplanned departures from your planned line.
Spectators and Picnic Areas
When arriving, all persons not participating in an experience are asked to go straight to  the Spectator and Picnic Area to await their participant, who must go straight to reception.
There may be a queue to enter reception so please be patient. Once the  participant has had their driver's briefing they will likely meet you outside before starting  their experience.
There are picnic tables in this area. We ask that ONLY ONE person, family unit or 'bubble'  utilise the table at any one time. Shared use is not permitted. Please consider other visitors who may require a seat.
These tables will be disinfected and cleaned throughout the day.
We ask that you utilise the multiple bins around the site or take rubbish home.
We advise that you avoid leaning on barriers as much as possible and avoid using handrails unless you need to. We will be cleaning these throughout the day, however the less you touch, the more you are protected.
Please understand that we do not place these restrictions on entry other than in the interest of the health and safety of all involved. We care about all our visitors and our staff and want to ensure we can continue to operate a safe and virus free environment for all involved.
Office Safety
In order to allow our customers to socially distance better inside our briefing room, we actually knocked down our office wall and extended the briefing room into our old office!
So as to not make our office staff homeless, we purchased a large mobile office unit.
Each member of staff has an allocated desk which allows for social distancing.
Desk swapping during one day is not permitted and desks must be kept clean and sanitised at all times.
Windows must be kept ventilated.
Non office working staff entering the office must do so one-by-one to talk with management or to collect any items they require.
Working outdoors and working on cars 
All staff working outdoors must ensure that they continue to follow social distancing  requirements. When meeting with customers, the urge to shake hands as would usually  be the norm must be quashed and instead an nod/wave and smile to greet.
Masks must be worn at all times when near other persons.
When working with other staff members, social distancing must be practiced wherever  possible. Some tasks such as assisted lifting or carrying, passing tools, wheels, tyres or  other items or checks and preparations of vehicles requiring more than one member of  staff can of course be carried out as required but contact must be kept to a minimum  wherever possible.
Staff Breaks 
When on lunch break, staff unfortunately cannot utilise our staff break room due to  sizing and staff number limitations that do not allow for social distancing.
Food and drink, by its nature, cannot be enjoyed with a mask on.
We instead ask that all staff go to their own vehicles to take lunch breaks, with social  distancing observed whenever possible.
If leaving the site, we advise staff to continue to practice social distancing.  We encourage staff to continue to wear their masks if interacting with people off-site.
Staff must wash their hands when leaving for lunch breaks and when returning to site.
Between Sessions and in quiet periods
During quieter periods and between sessions, cars are meticulously checked and  cleaned on other surfaces not addressed between customer usage.
Car exteriors that can be washed are cleaned thoroughly.
Toilets are cleaned and disinfected fully.
Instructors wash their hands using soap and water or using alcohol hand gel.
Briefing room chairs are disinfected and wiped down.
Updates and Adaptation
All measures are constantly checked for adequacy by all staff members on site who take pride  in the operation of Drift Limits, the safety of themselves and their colleagues and of course, all  our customers and visitors.
Any amendments required are reported to management. These are  checked and assessed.
If required, any documents on policy will be updated and staff training will be undertaken to  ensure all are operating in unison.
Any queries, please contact Drift Limits via our website at www.driftlimits.co.uk
Any questions
If you've got any questions about Drift Limits and Coronavirus, please take the time to read our special FAQ below and Terms and Conditions pages.
FAQ UPDATED 16/07/2020
Novel Coronavirus COVID-19 - Our Policy
Mandatory Mask Policy?
In line with advice from the UK Government, masks and face coverings can significantly reduce the chance of transmitting the virus and they advise that people wear them whenever in an enclosed area that you wouldn't usually be (basically not at home) and where social distancing isn't easy or possible – like on a bus or train.
We require that masks are be worn when on site with us. We recommend you keep them on at all times, for the safety of everyone on site, however only insist that you do whenever you interact with our staff, are inside our visitor centre, inside a car with an instructor or interacting with other visitors. Each person that wears a mask reduces the chance of any virus being transmitted. If we all wear them, the risk is reduced significantly further so let's beat it together.
We understand they aren't the prettiest things so if you want to take them off when having your Portrait Photos taken, no problem, but please put them straight back on.
We have acquired a stock of N95 masks and are offering them at COST PRICE to all our guests.
All our staff will be wearing them at all times for your protection. Please, respect our staff and respect our other guests and keep safe.
What's going on with my experience booking? Have I lost all my money?
What does the 'one free re-booking' mean? If I re-book and you have to postpone again, do I have to pay?
Any booking moved by Drift Limits due to COVID 19 lockdowns, is moved without charge.
No matter how many times – but hopefully only once!
Please, re-book your experience for the next available date that you can attend by contacting us via email.
Essentially, any booking moved by Drift Limits due to any circumstance, is done so without any charge to you.
Please note:
Should you wish to amend the date of your re-booking for any other reason, this may incur a re-booking fee in line with our terms and conditions.
We have contacted customers with a 'get in touch by' date. If you don't contact us during that period, a re-booking fee will be due. We have many customers to re-book and must insist that everyone is given a time period to contact us by – in order to ensure that new customers can book in and all can have adequate access to booking slots. By staggering this time, we can be sure everyone is able to contact us and have their booking processed and re-booked in a timely manner.
If you can't re-book yet as you're vulnerable, please get in touch with us to discuss this.
Please note that if you are self-isolating, we do need to see evidence of NHS Track and Trace informing you to isolate.
We cannot give free rebookings for COVID-19 related delays without proof of this.
My voucher expires next week. What do I do?
I don't have a booking yet and my voucher is expiring!
If you haven't got an experience booking with us yet and your voucher is expiring soon, GO PLACE A BOOKING NOW!
Securing a booking means your voucher does not expire and you do not miss out on an experience with us.
I have a voucher but forgot to redeem it or book anything and now it's expired!
If your voucher has expired please send us an e-mail to info@driftlimits.co.uk rather than placing a booking.
Expired voucher bookings will likely be cancelled and while they remain in our system, they'll stop other customers from taking booking slots that they require.
We'll need your full voucher details including the following:
Voucher Provider
For example, Groupon, Red Letter Days, Wowcher, Activity Superstore, Virgin Experience Days…
Voucher Number
For Groupon, we require the Security Code, for Virgin we require the full voucher reference and the PIN. Please get in touch if you're not sure which code to send.
Date of Expiry
The full date on which it expired.
Experience
What experience the voucher was valid for.
With these details we can look into your voucher and advise what we can do to help, or who to contact.
We can't guarantee there won't be a charge or fee, but we'll do everything we can to help ensure that your experience goes ahead.
I paid a Saturday Surcharge, have I lost it?
Your website says Saturday Surcharges are non-transferable. Have I lost that money?
No.
When re-booking your experience, your Saturday Surcharge will be utilised for your next booking.
If I want to re-book to a weekday, will you refund this?
We greatly recommend you keep the credit with us; putting it towards extra laps, media and CDW options on the day of your experience.
You are welcome to request a refund, however they do take some time to process and the credit can be put to better use.
Bookings through certain agencies may require you to contact them directly should you wish to get a refund.
We're happy to confirm if this is the case through email.
Please remember – if YOU choose to amend or move your booking, the Saturday Surcharge cannot be transferred and could be chargeable.
I bought Cancellation Indemnity, has this been affected?
Your cancellation indemnity remains unaffected. We won't use that credit up.
Essentially, including the Covid-19 re-booking, you've got 2 re-booking credits.
What does the contact period mean?
The contact period is a 'please get in touch with us within' time frame. That's it.
We ask that you get in touch, via email, within that contact period.
Still confused? Use this handy tool to input when you're booked in for and add the quoted number of days to it. There's your cut-off date.
https://www.timeanddate.com/date/dateadded.html
If you do not contact us by that contact date, a re-booking fee will be due to book your experience.
Please get in touch AS SOON AS POSSIBLE to re-book.
YOU DON'T HAVE TO RE-BOOK THE EXPERIENCE TO WITHIN THAT PERIOD, JUST CONTACT US WITHIN IT.
YOU DO HAVE TO BOOK FOR A DATE OPENED FOR BOOKING, WITH AVAILABILITY.
FIND YOUR EXPERIENCE ON OUR WEBSITE AND CHECK THE CALENDAR FOR OPEN DATES WITH AVAILABLITY.

Please be aware that if you have not contacted us as requested during the time period quoted, a rebooking fee will be due.
I'm over 70 or vulnerable and I've been told to self isolate for a horribly long time. What do I do?
Please, get in touch with us via email. We'll talk with you directly about how to re-book your experience with us in the future.
Why can't I call you?
We do have telephones in operation.
Our staff are working as hard as they possibly can. We usually state a reply within 2 working days – however due to a reduced team size, this may take longer and we ask that you bear with us.
We have telephones located in our offices and at our circuit. Our staff who are self-isolating also have phones to assist you remotely.
Please only call the circuit telephone if you are going to be late, not for booking enquiries.
We work through emails chronologically as they come in, to be fair to all our customers.
Chasing emails will result in your email being pushed to the back of the queue and will likely delay any response.
Be patient, be kind and we'll help. Being abusive to our staff is not something we will accept.
I've got another query that isn't in the FAQ
Sorry about that, we'll be updating this as much as we possibly can.
You can always have a look through our Terms and Conditions Page for more info.
If you can't find it there, the next step is sending us an email.
You can do this via the contact us page or at info@driftlimits.co.uk