Driver Club Drift Battle – BMW vs MX5
Two of the most renowned drift cars go head to head for the ultimate shoot out, the lightweight Mazda Mx-5 NB and the BMW E90. 
The fastest drift experience in UK – progress from the very basic slow to medium second gear corners to fast third gear entries on a purpose built low friction track.

Option to stay in your preferred drift car for the entire duration of the experience.

Take part in the optional 'Drift Trophy Challenge'. One winner every month. 1 Trophy every year. Your driving will be assessed on the last 2 laps – based on consistency, driver control and clipping points to demonstrate the perfect drift lap where you can win a value of £3000 towards your journey into motorsport.
30 Minute Introductory Briefing: Covering drift lines, throttle / braking technique and track day safety etiquette.

4 x Sighting Laps including 1 fully sideways high speed passenger lap in our BMW E90 Drift Taxi.

4, 8 or 16 x drift laps in the Mazda Mx-5 NB (select below)

4, 8 or 16 x drift laps in the BMW Drift Taxi (select below)

Run the wall and drift around the ultimate street derived course featuring a series of Japanese Zen Garden Roundabouts.

Approximate Experience duration: 90 mins to 120 mins depending on laps.

Only bookable by Driver Club Members
So How Does It Work?
There's a certain characteristic common among the members, an underlying tendency towards out-and-out lunacy and our specialist instructors (completely unhinged) will encourage you to explore this dark art of motorsport.
The two different cars you will be driving have proven drift ability, becoming vehicles of choice for many drifters (our own staff included):
Your first set of laps will be the Mazda Mx-5, it's lightweight, nimble and precise. The short wheelbase gives the snappy handling characteristics of the fabled Toyota AE86 – the rev happy low powered engines seem to long for red-line abuse, making these machines notorious in Japan for the aggressive drifting style and the ability to carry an incredible amount of speed into the bends with a mind bending change of direction.
After completing your first set of laps in the Mx-5, step up to the more powerful, more aggressive Turbo powered BMW E90 Drift Taxi for the last set of laps. The long wheel base chassis aids the driver while transitioning the drift – making this the weapon of choice for Formula D and D1 Drift champions leaving huge trails of smoke and burnt rubber in their tracks. 
The driving progression from Mazda to BMW should cement your drifting ability and build an understanding of two very different vehicle set-ups.
Mazda MX-5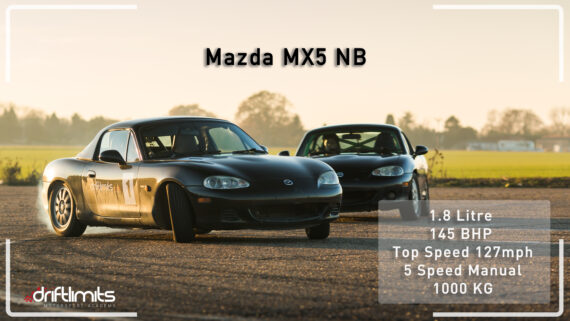 Drifting an MX-5 is a brilliant way to understand the basics of drifting and car control. Although they are small engined and short wheelbase cars, their lightweight body's are perfect for getting the back end out and learning to control the slide – which makes them such desirable beginner's drift cars. You can really feel how the power is delivered, perfect for the trial and error nature of learning to drift.  They can be unforgiving at times but are incredibly fun and will teach you so much.
BMW E90 Drift Taxi

Our Custom-Mapped Hybrid Turbo powered BMW Drift Taxi – which provides a colossal 550NM of torque making it easy to spin up the rear wheels and initiate the drift. The long wheel base chassis aids the driver while transitioning the slide lock to lock making it the perfect car to learn how to drift. Having been used competitively across the globe with a massive catalogue of bolt-on modifications and upgrades.
---

Got an old 'Bronze/Silver/Gold' Voucher? Easy guide!
Hi Everyone,
Yes, we've done it again and upgraded our experiences. We made the track longer, we added in more elements to it and improved our drifting experiences hugely, giving you a minimum of 30% more drifting than before!
For those of you that hold old vouchers valid for Bronze, Silver or Gold Experiences, here's a guide as to what to book:
Bronze MX5 – BMW vs MX5 12 Lap
Silver MX5 – BMW vs MX5 20 Lap
Gold MX5 – BMW vs MX5 36 Lap
Bronze 350Z – BMW vs 350Z 12 Lap
Silver 350Z – BMW vs 350Z 20 Lap
Gold 350Z – BMW vs 350Z 36 Lap
Please make sure that you select the voucher vendor's company name, which should show in the selector drop down at checkout.
for example:
Groupon – BMW vs 350Z 20 Lap.
BuyAGift – BMW vs MX5 36 Lap
VirginExperienceDays – BMW vs MX5 20 Lap
Want to upgrade to more laps? Follow this quick and easy hack.
You can efficiently upgrade your experience voucher from a 12 lap to a 20 lap, a 20 lap to a 36 lap or even directly from a 12 to a 30 in one go, through our website. No need to contact us.
Simply select on the booking page, which experience you want to book, then when at checkout, select the voucher that you hold.
For example: If you hold a voucher for a 20 lap and want to drive 36, follow these steps:
Choose the 36 Lap selection above the Calendar; the experience you wish to do.
Select your session date and time from the Calendar.
Click 'Book Now' to add to your Cart.
Add any extras and proceed to Checkout.
In the checkout, select the voucher you hold – in this example, the 20 lap.
Once you apply this voucher, the system will recognise what you hold and ask you for the details of that voucher. It will automatically calculate the upgrade amount, which you can pay when checking out. Simple, easy.
Any other route may result in your booking being cancelled by our team due to submission of an incorrect voucher.
Please ensure to select the correct booking option from the drop down menu below (if shown) before selecting your date. The arrow to the top right corner can be used to navigate to future months.
Session Information
Height, weight & drivetrain restrictions can be found here
Physically fit with no serious health conditions
Glasses must be worn if needed
Full manual driving licence
Flat-soled shoes must be worn
* Extra laps, vehicle upgrades and passenger laps subject to availability. Charges apply.
Calendar Key:
Red: Fully booked
Green: Spaces available
Green with brown corner: Limited spaces available
Date not highlighted: Not available
'No Blocks' message: No space available